JOB No 30105EN
Bridal Coordinator
¥1,400~(¥1,500~depending on work experience)
Nagoya shi, Nakamura ku; Sakae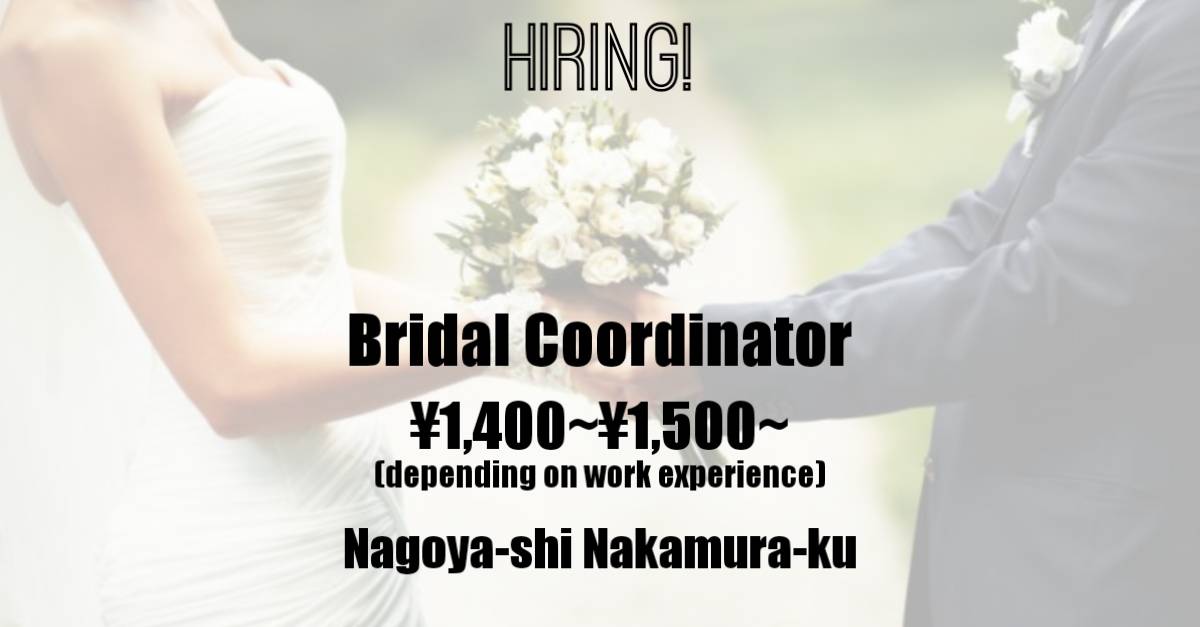 ■Job Description
Bridal coordinator support/assistant, interpreter, translator, office work. You will mainly interact with the japanese and overseas coordinator wedding venues (Hawaii, Bali, Cebu).
■Employment Status
Temporary Staff ※haken shain
■Place of Work
Nagoya shi, Nakamura ku; Sakae
■Mode of Transportation
By train to Nagoya station then 10 minutes walk
■Prerequisite
Must be fluent in Japanese, at least N2 level. Can read hiragana, katakana, kanji; Can speak English; Can use EXCEL and WORD.
■Preferential Conditionn
Applicant who can read and write japanese will be given preferential treatment.
Good communication skills.
■Working Hours
Regular time: 12:00 - 21:00 (in some cases, work is until 8PM only)

※no overtime

※guaranteed salary until 21:00 even the work finish at 20:00
■Holiday・Vacation
Saturday・Sunday ・ Holiday
■Welfare benefits
・Complete payment for transportation expenses (payment for gasoline to car commuters)

・Housing allowance (in case of relocation accompanying assignment) 5,000/month

・Social insurance

・Career consulting support
■Remarks
It is possible that you can go to Bali, Hawaii, Cebu Island as an interpreter for Japanese weddings abroad.
Clients are mostly Japanese.
JN8 -JAPANnavi8-
Information site supporting foreigners living in Japan.