JOB No 6010814
Warehouse Cargo Handling
Male: ¥1,200/hour ; Female: ¥1,100/hour
Aichi, Tobishimamura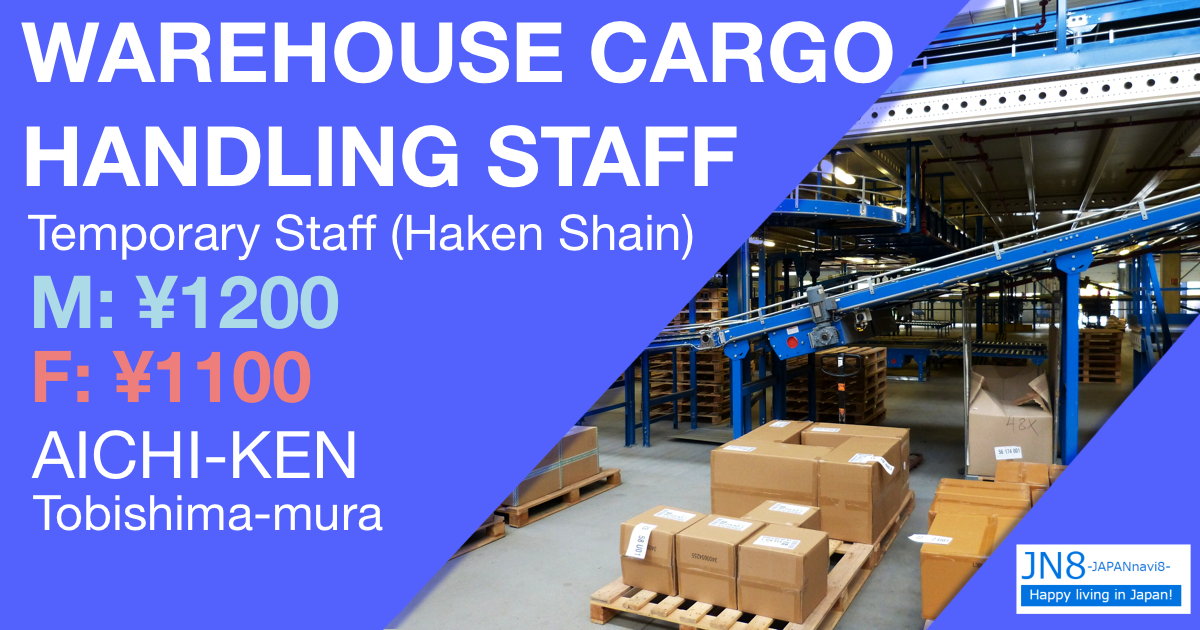 ■Job Description
Warehouse Cargo Handling ; Loading and Unloading.
■Employment Status
Dispatch Staff (Hakenshain)
■Place of Work
Aichi, Tobishimamura
■Mode of Transportation
By car
■Prerequisite
No special skills required.
■Preferential Conditionn
Can speak japanese or can understand daily conversation.
■Working Hours
8:00~17:00 (1hour breaktime)

※Sometimes with 30 minutes overtime.

※If busy season, there will be 1.5 up to 2 hours overtime. (Busy seasons:12月、1月、2月、7月、8月)

※There will be work even on public holidays.
■Holiday・Vacation
Saturday・Sunday
■Welfare benefits
Commuting transportation expenses: full payment
Housing allowance (in case of relocation accompanied by assignment); 5,000 yen
Social insurance
Career consultation support
■Remarks
※Gasoline expenses will not be provided.

※Needed more male applicants.

※We hire only limited numbers for female. (Light works)