JOB No ACH-INM-AZT001-EN
Restaurant Staff (Hall・Kitchen・Customer Service)
¥198,333/month (Base Salary:173,333円+Fixed Overtime Pay for 20 hours: 25,000円)+Other Allowances
Aichi, Ichinomiya City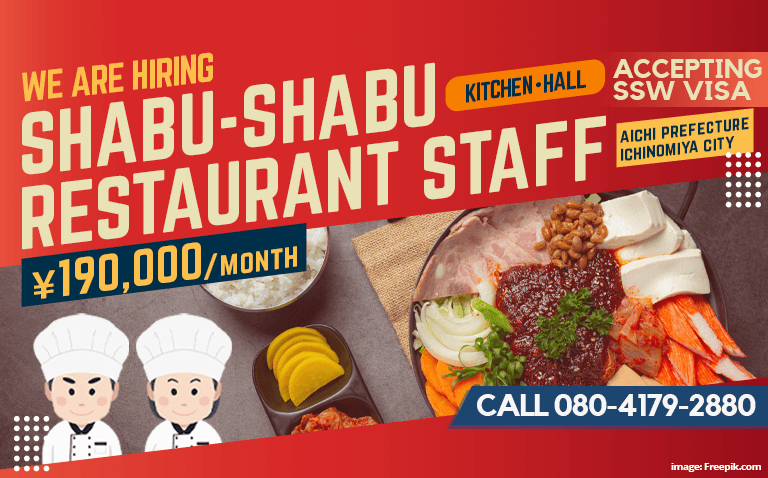 ■Job Description
Restaurant Staff (Hall・Kitchen・Customer Service)
■Employment Status
Full-time Employee (正社員)
■Place of Work
Aichi, Ichinomiya City
■Mode of Transportation
By Car, Bicycle, Public Transportation
■Prerequisite
Japanese conversation level at least 30%
■Preferential Conditionn
・Inexperienced applicants are welcome (At least can understand basic Japanese conversation)
・SSW (Special Skilled Worker) Visa holders may apply as sponsorship is available
・Experience in Restaurant operation is a plus
■Working Hours
5PM - 1AM (until closing)
※Normal working hours is from 5PM - 1AM
※If possible to work from 10AM, the applicant can help with the morning preparations and the schedule of working hours will be adjusted. If for example, an applicant has started working from 10AM-1PM, his/her working schedule will be adjusted and will then continue work from 5PM-9PM only to complete the 8 hours (including 1hr break) per week.

sample schedule:
※5PM ~ 1AM (until closing)
※10AM-1PM, 5PM-9PM
The shift will depend on what will be discussed with the manager.
■Holiday・Vacation
・8-9 days every month.
・Shifting schedule, Paid leaves
・Annual Leave:105 days
■Welfare benefits
Health Insurance, Employee Pension, Unemployment Insurance, Worker's Compensation Insurance
・Free Uniform
・Moving Allowance
・Commuting allowance, Family allowance, Overtime allowance
・Duty Allowance
・Rent allowance (half amount paid, up to 30,000 yen) *needs consultation
■Remarks
《Has Fixed Overtime Allowance》
・Regardless if there is overtime or not, an employee will receive a fixed 20 hours overtime allowance (25,000 yen) per month
・Extra pay for overtime work exceeding 20 hours will be paid additionally.

《Other Notes》
・Smoking area available
・An average working day per month is 21.7 days