JOB No ACH-NGO-TE002-EN
Car Navigation Filter Inspection Staff
¥1,100/hour
Aichi, Nagoya, Nishi Ward (Near Kamiotai Station)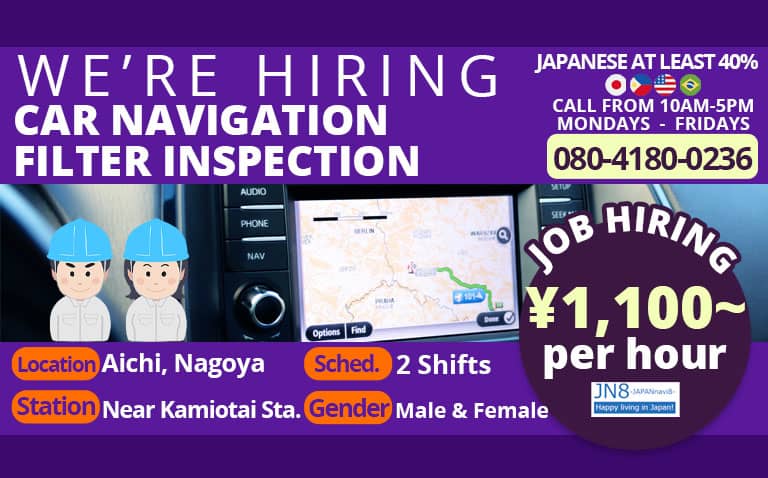 ■Job Description
Car Navigation Filter Inspection
■Employment Status
Dispatch Staff (Hakenshain)
■Place of Work
Aichi, Nagoya, Nishi Ward (Near Kamiotai Station)
■Mode of Transportation
By Car, Bicycle, Public Transportation
■Prerequisite
Japanese conversation level at least 40%
■Preferential Conditionn
※ Open for male and female applicants
※ We accept applicants until 50 years old.
■Working Hours
2 Shifts (Can select preferred shift)
※ 08:30 - 17:30 (day shift)
※ 20:30 - 05:30 (night shift)
■Holiday・Vacation
Saturdays and Sundays
■Welfare benefits
※ Shakai hoken
※ Others (Can ask for more information)
■Remarks
Location : Aichi Prefecture / Nagoya City Nishi Ward
Nearest station : 10 minutes walk from Kami-Otai Station
Means of Commuting : Can commute by car, bicycle or on foot!

Please discuss your preferences for working hours and days at the time of interview.
JN8 -JAPANnavi8-
Information site supporting foreigners living in Japan.