JOB No ACH-TYT-AZOO1-EN
JAVA / C# Developer for Automotive Industry
¥250,000/month starting salary (Negotiable)
Aichi, Toyota City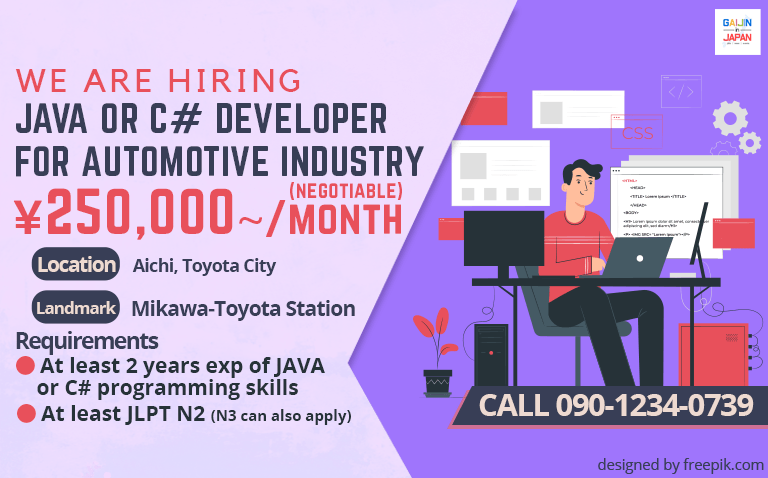 ■Job Description
JAVA / C# Developer for Automotive Industry
■Employment Status
Dispatch Staff (Hakenshain); Contractual; Opportunity to become a Regular Employee
■Place of Work
Aichi, Toyota City
■Mode of Transportation
By Car, Bicycle, Public Transportation
■Prerequisite
【REQUIRED SKILLS】
・At least 2 years of experience in C# or JAVA development in your home country and development experience in Japan (regardless of language)
・Or at least 1 year of JAVA or C# development experience in Japan.
・If you are a foreigner, Japanese Language Proficiency Test N2 or higher (JLPT N3 is negotiable)

【PROGRAMMING LANGUAGE】
・JAVA
・C#
■Preferential Conditionn
None
■Working Hours
9:00 ~ 18:00
※Work schedule is for consultation.
■Holiday・Vacation
Saturdays・Sundays・Holidays
※For consultation.
■Welfare benefits
●Full social insurance
●Paid vacation leaves
●Other benefits are for consultation
※Each benefit is subject to regulations.
■Remarks
Work location and access method
Work Location: Aichi, Toyota City
Nearest Station: Near Mikawa-Toyota Station
JN8 -JAPANnavi8-
Information site supporting foreigners living in Japan.