How can I ship large items at Mercari?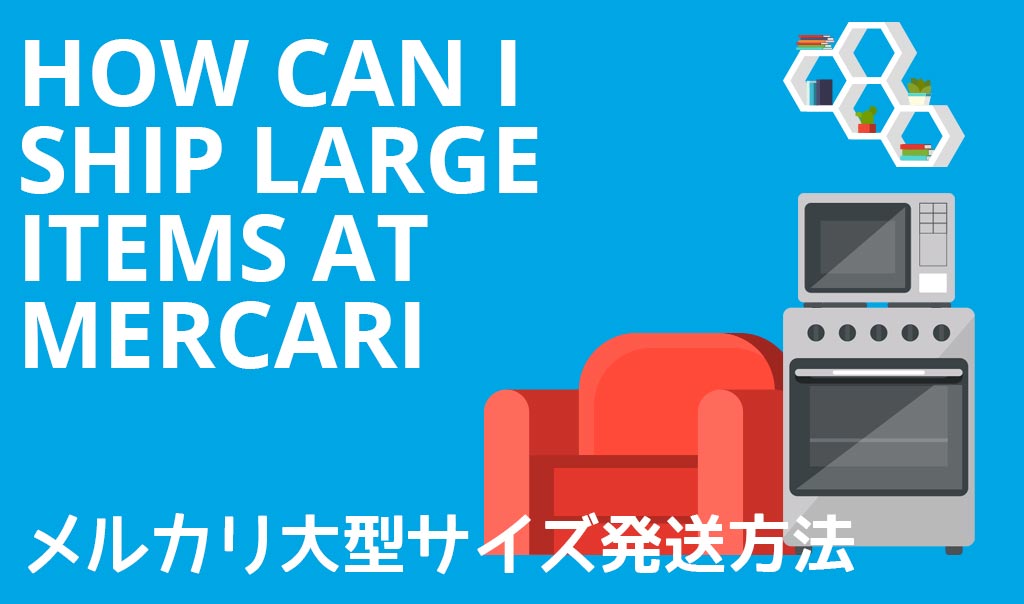 Are you having problems in disposing your large furniture without spending a dime? Have you even thought about selling the stuff online? Mercari can support you to sell your large furniture and appliances. In this article, we will explain the ways on how you can sell your stuff online using Mercari.
HOW CAN I SHIP LARGE FURNITURE USING MERCARI?
There are two ways to send your sold furniture on Mercari
RAKURAKU MERCARI DELIVERY SERVICE
You can use Rakuraku Mercari to send your large stuff. The service is available for 160cm length furniture and within 26kg. The total length, height and width should be within 160cm. Anything higher won't be accepted.
Aside from Rakuraku Mercari, "YuYu Mercari" can also be used to send your stuff. Pay attention though, YuYu Mercari's accepted size is up to 100cm only.
WRITING SHIPPING INFORMATION ISN'T NEEDED
You can deliver the item via Rakuraku Mercari using the delivery code so there's no need to write the buyer's address. This service is very convenience and you don't need to pay at the cash register to send your item.
Rakuraku Mercari delivery service has 41,000 delivery locations nationwide, including local convenient stores, takyubin lockers on train station, and Yamato Sales offices.
You can even have the items be ready to pick-up on convenient stores, the buyer just need to present the invoice number to claim the item.
SHIPPING FEE IS ALWAYS ON FLAT RATE NATIONWIDE
Using Rakuraku Mercari, you can send your items at flat rate nationwide, no matter where you send the item, the rate stays the same. Easier transactions, smooth process! All for you!
SELLER AND BUYER PRIVACY PROTECTION
Once you send the item, you can check its status using the transaction screen app. The transaction is faster because there's no need to input the tracking number, which is usually needed to track items on other courier services.
Moreover, to protect the seller and buyer's privacy, it's possible to conceal the seller or buyer's name and address. This makes the transaction safe as Mercari handles all the process.
TRUSTED SUPPORT SERVICE
If you're planning to use Rakuraku Mercari, they provide ample support from shipping to delivery, especially if problems arise during the shipping.
Mercari support will also handle claims for damaged or lost items. Please contact Mercari support for further information.
WHAT IF THE ITEM IS BIGGER THAN 160cm? HOW CAN I SEND IT?
If the item that you're planning to sell exceeds 160cm, or if the packing is difficult, Mercari recommends to use 「梱包・発送たのメル便」 Packing and Shipping TanoMERU method.
We will make a separate article for TanoMERU article shipping method.
Source: Mercari
Other Mercari Articles
● How to transfer money from Mercari Japan to your bank account
● How to buy and sell your stuff using Mercari App Japan
● How to deliver packages using YuuYuu Mercari?
JN8 -JAPANnavi8-
Information site supporting foreigners living in Japan.