Man, arrested for attaching a small camera to his shoes to take videos of girl's underwear in Nagoya
05/23/2022
AICHI – A 32-year-old man was arrested at a commercial establishment in Nagoya's Higashi Ward on suspicion of attaching a small digital camera to his sneakers and inserting it under the skirt of a female high school student to take videos.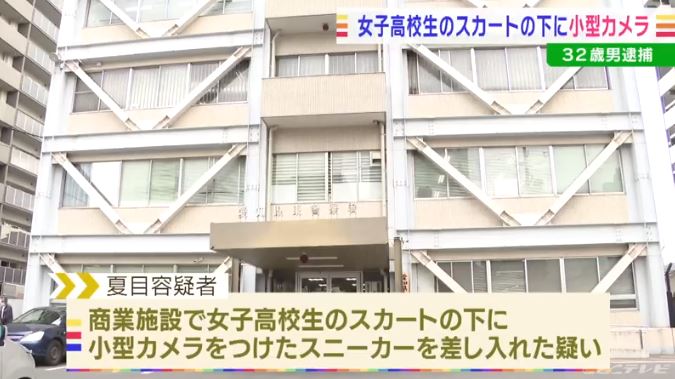 Man, arrested for attaching a small camera to his shoes to take videos of girl's underwear in Nagoya
The suspect, Yuhei Natsume, 32, a self-proclaimed company employee in Yamada-Nishimachi, Kita-ku, was arrested at the scene.
According to police investigations, at around 4:30 p.m. on May 22, Natsume inserted a sneaker with a small digital camera attached under the skirt of a 17- and 16-year-old female high school student at a commercial facility in Higashi Ward. He is suspected of violating Aichi Prefecture's nuisance prevention ordinance.
A man nearby witnessed the incident and reported to the police that a man with a camera in his shoe was walking behind the woman.
The police officers who arrived at the scene arrested the suspect Natsume caught in the act.
The suspect, Natsume, had attached a small camera measuring 3 or 4 cm in length and width to the sneakers on both feet, concealing it with a string, and he admitted to the interrogation that he did it.
The police believe that Natsume was trying to steal the camera and plan to pursue other charges, such as examining the SD card that was in the camera.
JN8 -JAPANnavi8-
Information site supporting foreigners living in Japan.