Sukiya employee, died while on a one-man shift duty in Nagoya
06/03/2022
AICHI – In January 2022, a female employee of the beef bowl chain Sukiya collapsed and died while working at a store in Minato Ward, Nagoya City. The woman was working as a "one-operator," meaning that she had to handle everything from serving customers to cooking and washing dishes by herself.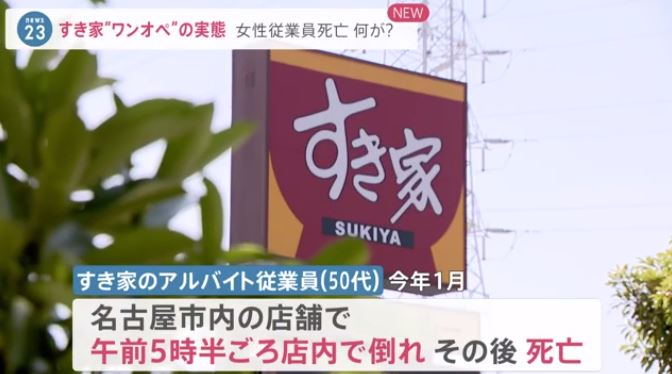 Sukiya employee, died while on a one-man shift duty in Nagoya
According to attorney Tadashi Matsumaru, an expert on labor issues, one of the reasons for companies to introduce "one-op" is to cut costs.
In the case of Sukiya, the restaurant is open 24 hours a day and is always open. If two or three people work a shift throughout the day, there will naturally be labor costs.
In this case, Sukiya's restaurants were operating on a one-operator basis from 5:00 to 9:00 a.m. because the number of customers was relatively small and the workload was not so heavy.
However, Attorney Matsumaru points out, "For the workers, there are significant risks, including safety issues such as robberies, and life-saving treatment in the event of a fall such as this one.
Therefore, he said, "Even if there is a managerial decision to 'cut costs,' as long as there is a risk to the workers, it is basically desirable not to introduce a one-operator work style.
Sukiya plans to eliminate early-morning one-ops at all of its restaurants by the end of June.
JN8 -JAPANnavi8-
Information site supporting foreigners living in Japan.