Man Arrested for Leaving Wife and 1-Year-Old in Car and Fleeing from Patrol Car
06/27/2022
AICHI – On the 22nd of this month, a man was arrested in Atsuta-ku, Nagoya, after being chased by a police car, leaving his wife and child in the car and fleeing.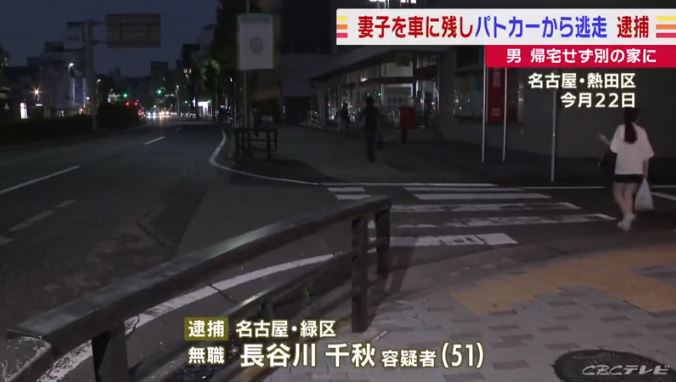 Man Arrested for Leaving Wife and 1-Year-Old in Car and Fleeing from Patrol Car (CBC Terebi)
The suspect, 51-year-old Chiaki Hasegawa, unemployed, was arrested in Midori Ward, Nagoya City.
According to the police, around 3:30 p.m. on the 22nd of this month, Hasegawa ran away from a police car in Atsuta Ward without responding to the car's request to stop, ran a red light, and then stopped suddenly as he was entering an alley.
After leaving his car behind and fleeing, the suspect did not return to his home but instead hid out in an apartment complex in Midori-ku.
JN8 -JAPANnavi8-
Information site supporting foreigners living in Japan.