2-year-old girl, found dead inside a room of an apartment in Osaka
06/30/2022
OSAKA – On the evening of June 29, a 2-year-old girl was found dead in a room of an apartment complex in Tondabayashi City, Osaka Prefecture, bleeding from the mouth.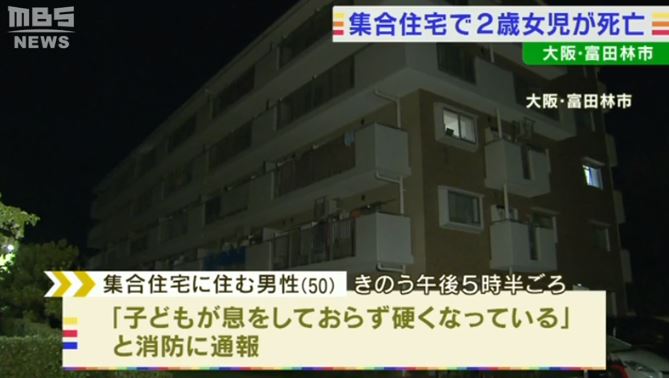 2-year-old girl, found dead inside a room of an apartment in Osaka (MBS News)
At around 5:30 p.m. on June 29, a man (50) living on the third floor of a apartment complex in Koganedai, Tondabayashi City, reported to the fire department that his child was not breathing and was stiff.
When firefighters arrived, they found Yuyo Ono (2) lying in one of the rooms, bleeding from the mouth, and she was confirmed dead on the spot.
According to the police, Yuyo's clothes were undisturbed and she had no noticeable external injuries, but she was very thin. Yuyo did not live with her parents, but with her grandmother and her son.
The police are investigating the cause of Yuyo's death and speaking with her family members.
JN8 -JAPANnavi8-
Information site supporting foreigners living in Japan.