Three Philippine women, busted for scam modus in Japan
01/18/2022
Three Philippine women were arrested for scamming. Their scamming method starts from a pop-up screen appearing from the victim's computer and would have them pay money as support fee. This is the first time this scamming modus has been uncovered, with damages amounting to over 20 million yen.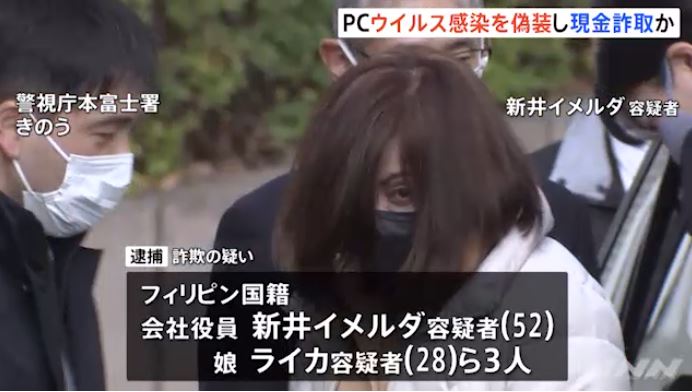 Three Philippine women, busted for scam modus in Japan (JNN)
Three Filipina suspects were arrested including Imelda Arai, 52-years old, and her daughter, Lyka, 28-yeard old.
In 2019, the suspects are alleged to have scammed a woman in her 50s in Tokyo at had her pay 30,000 yen for the virus fix. If the victim doesn't call the number shown in the pop-up virus within 5 minutes, access to the computer will be disabled. By calling the support number, the victim will be then asked for a support fee amounting to 30,000 yen.
The suspects have denied the charges, but the Metropolitan Police Department believes they swindled at least 400 people out of more than 20 million yen over a one-year period from October 2018.
JN8 -JAPANnavi8-
Information site supporting foreigners living in Japan.