Analysis by Fugaku: "Even if you wear a mask, talking within 50 centimeters increases the risk by 20-30%."
02/02/2022
RIKEN in Kobe has announced the results of an analysis of the Omicron strain of a new type of corona conducted using the supercomputer Fugaku.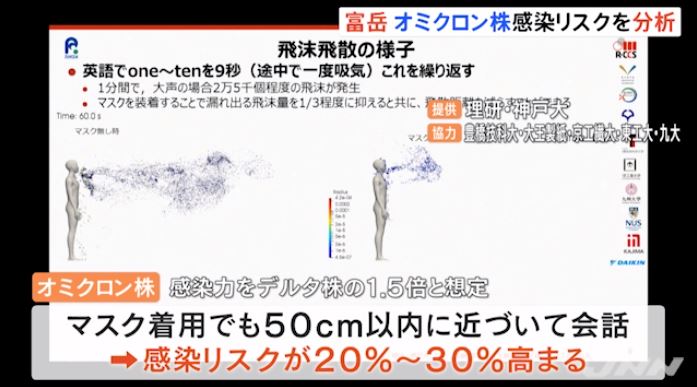 Analysis by Fugaku: "Even if you wear a mask, talking within 50 centimeters increases the risk by 20-30%." (JNN)
A team of researchers from the Institute of Physical and Chemical Research in Kobe, Japan, and others have reported the results of a new simulation using the supercomputer Fugaku. Assuming that the infectivity of the Omicron strain is 1.5 times higher than that of the Delta strain, the team found that the risk of infection increases by 20% to 30% when people talk within 50cm of each other, even if they are wearing masks.
Makoto Tsubokura, Team Leader, RIKEN/Kobe University
"Even if an infected person wears a mask, there is still some risk of infection if they come within 50 cm of you. I don't want people to be reassured."
In addition, the risk of infection in karaoke centers was found to be cut in half or less by reducing the number of people in the room.
JN8 -JAPANnavi8-
Information site supporting foreigners living in Japan.