76-year-old woman 'over-accelerated' when car rammed into ramen store, injuring 6 people Fukuoka
02/14/2022
FUKUOKA – Around noon today, a passenger car rammed into a ramen restaurant in Kurume City, Fukuoka Prefecture, injuring six people, including a child.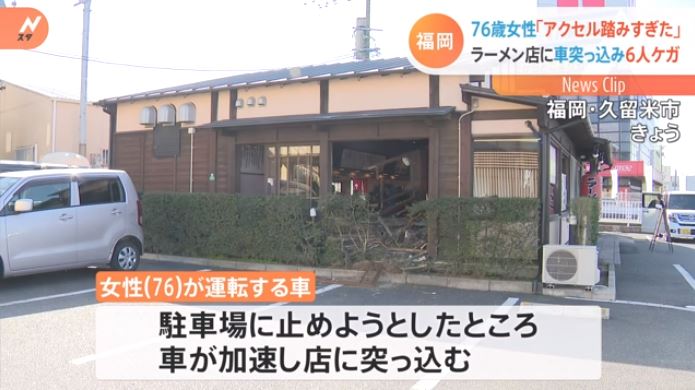 76-year-old woman 'over-accelerated' when car rammed into ramen store, injuring 6 people Fukuoka (JNN)
Today, 14th of February, a 76-year-old woman had lost control of her car in the parking lot of a ramen store in Kurume City, Fukuoka Prefecture, when the car suddenly accelerated and ran straight into the store. The car broke through the outer wall and the window glass of the store, and stopped when about half of the vehicle's body entered.
A total of six people were injured in the accident, including a baby and a 1-year-old child, and a woman in her 80s who was in the passenger seat of the car. All of them were taken to the hospital, all of whom are conscious.
The 76-year-old woman who was driving the car told the police, "I pressed the gas pedal too hard." The police investigation is still on-going.
JN8 -JAPANnavi8-
Information site supporting foreigners living in Japan.