Man Arrested on Suspicion of Burying Bodies of Father and Grandfather in Sandy Beach in Kanazawa City
03/01/2022
KANAZAWA CITY – A man has been arrested on suspicion of dumping the bodies of his father and grandfather on a beach in Kanazawa City, two days ago.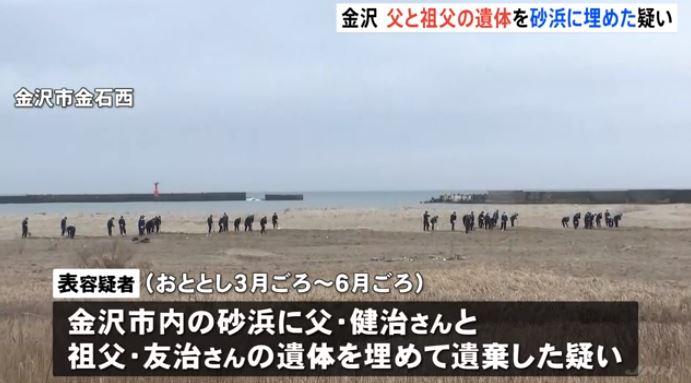 Man Arrested on Suspicion of Burying Bodies of Father and Grandfather in Sandy Beach in Kanazawa City (TBS News)
The suspect, Katsuhiko Omote, 34, an unemployed man in Kanazawa City, is suspected of burying and dumping the bodies of his father Kenji and grandfather Tomoji on a beach in the city between March and June of last year.
Parts of the body were found in June of last year in a state of bleached bones, and it is believed that more than 10 years have passed since his death.
In January this year, the police received a missing person's report from a relative and identified him by DNA analysis. There were no noticeable external injuries on the body, and the suspect Omote said, "I tried to buried them away from our home so they won't be found."
JN8 -JAPANnavi8-
Information site supporting foreigners living in Japan.