Grandson, 22, arrested for murder of grandparents and brother at Hamamatsu, Shizuoka
03/10/2022
SHIZUOKA – In an incident in which the bodies of an elderly couple and their grandson were found in Hamamatsu City, Shizuoka Prefecture, police yesterday arrested a 22-year-old man, a grandson who lived with the couple, on suspicion of murdering his grandfather.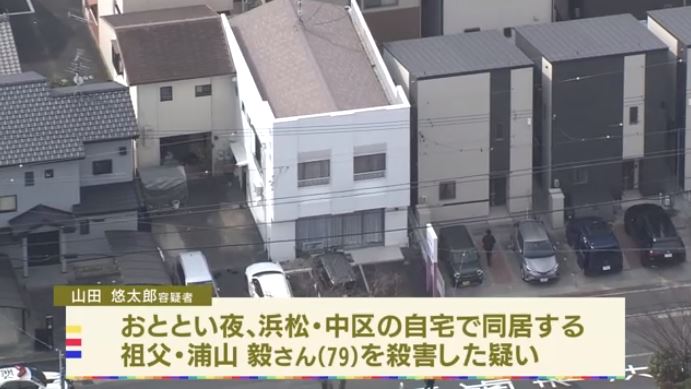 Grandson, 22, arrested for murder of grandparents and brother at Hamamatsu, Shizuoka (TBS News)
The suspect arrested on suspicion of murder is Yutaro Yamada, 22, an unemployed man from Naka-ku, Hamamatsu City. According to the police, Yamada is suspected of killing his grandfather, Tsuyoshi Urayama, 79, who lived with him, in some way at his home the night before yesterday.
Urayama, his wife Hideko, and their estranged grandson Kento Yamada were killed in the incident; all three suffered traumatic injuries that resulted in bleeding.
Eight relatives were believed to have met at Urayama's house just prior to the incident. The police are investigating the possibility that Yutaro Yamada was also involved in the murders of Hideko and Kento.
JN8 -JAPANnavi8-
Information site supporting foreigners living in Japan.