JOB No 020105EN
Restaurant Manager
¥180,000 + bonus (depends on the performance)
Aichi, Nagoya City, Kita Ward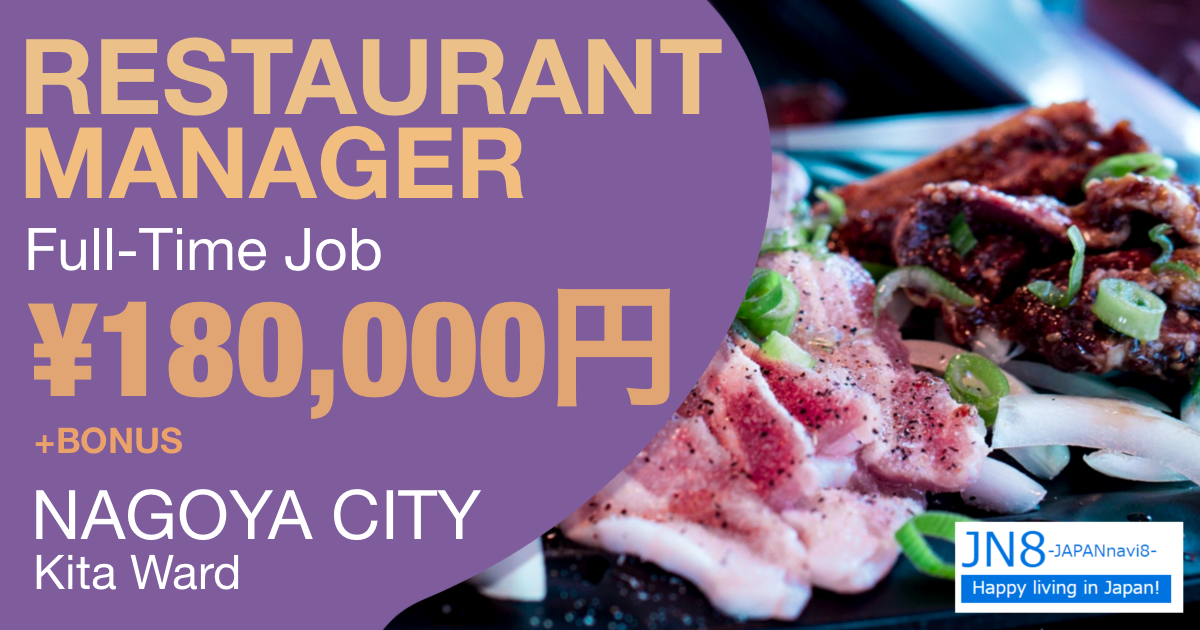 ■Job Description
Restaurant Manager
■Employment Status
Regular Employee
■Place of Work
Aichi, Nagoya City, Kita Ward
■Mode of Transportation
By car
■Prerequisite
Can speak and communicate in japanese. High skill in reading and writing kanji is not required.
■Preferential Conditionn
With working experience at restaurant will be prioritize.
■Working Hours
Working hours: 16:00~23:00(7h)

※training hour starts from 4pm; restaurant's operating hour is from 5pm until 10pm.
■Holiday・Vacation
Holiday: every WEDNESDAY of the week.
(other day off will be consulted to the owner)
■Welfare benefits
・Health Insurance (can be consulted to the owner)

・Free Housing (at restaurants 2nd floor) ※3 rooms (tatami) with toilet and shower.

・Utility cost: 5000 yen compensation

・No parking area available
■Remarks
We are looking for a young applicant! Preferably a FEMALE!

Even not so good in japanese as long as you are cheerful and can communicate smoothly, you are welcome to this job.

Job description:

Store management service ※ With paperworks sometimes
Purchasing of meat and drinks (will purchase by phone)
Provide meals and hospitality service
Cleaning service
JN8 -JAPANnavi8-
Information site supporting foreigners living in Japan.