Two Vietnamese individuals were apprehended in eastern Japan on September 12 for their suspected involvement in producing counterfeit Japanese residence cards.
09/14/2023
GUNMA – The Gunma Prefectural Police's foreign affairs division and Ota Police Station detained Nguyen Duc Minh, aged 26 and currently unemployed, along with Bui Thi Ha, aged 27, who works at a restaurant. They face allegations of violating the Immigration Control and Refugee Recognition Act. Authorities have not disclosed the suspects' pleas in response to the accusations.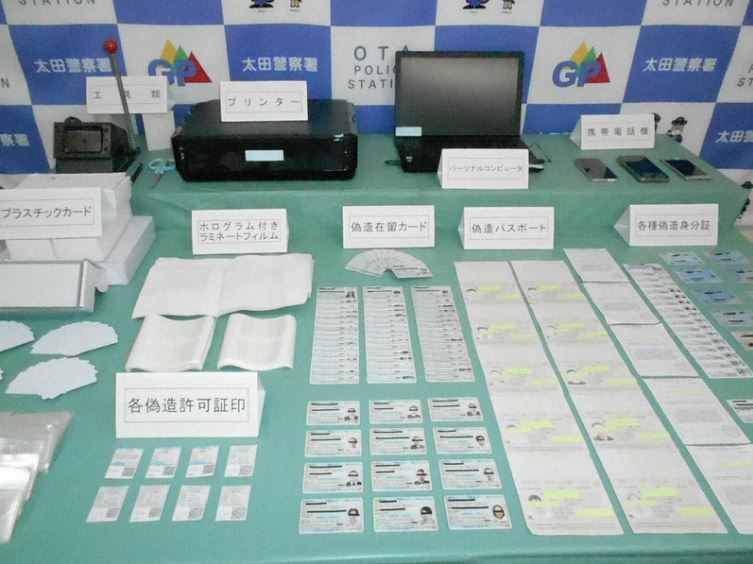 2 Vietnamese arrested on suspicion of manufacturing fake Japanese residence cards
According to the foreign affairs division, this marks the first discovery of a counterfeit card manufacturing operation in the prefecture. Nationwide, most such illegal operations are predominantly run by Chinese individuals, making it uncommon for Vietnamese nationals to be implicated.
Specifically, the duo is accused of collaborating with an unidentified individual to produce 12 counterfeit residence cards on August 9 at their apartment in Ota. The investigation was prompted by the discovery of numerous fake card components in a trash area of another apartment building in the city in March, prompting the involvement of the prefectural police.
The foreign affairs division revealed that the two individuals seemingly produced counterfeit residence cards and other items, subsequently shipping them at the request of a mastermind located in Vietnam via social media channels. Based on the funds deposited into their bank accounts, it appears they may have sold the counterfeit cards for prices ranging from 3,000 to 6,000 yen (approximately $20-40) each. Social media interactions and other information suggest that the counterfeiting activities may involve thousands of cases, leading authorities to investigate these incidents as part of an international criminal network under the leadership of the mastermind.
Aside from the forged residence cards, authorities confiscated fake driver's licenses, around 3,000 white plastic cards used for counterfeiting, smartphones, a printer, and various other items from their apartment.
(Original Japanese report by Azusa Hinata, Maebashi Bureau)