Karimen English Exam Practice Test 3
Ready to test your skills? Try our Karimen English practice exam no. 3!
Do not obstruct traffic by staggering drunkenly on the road, standing around, talking, etc.
A large bus was driving slowly on a winding mountain road, and although the curve was not clear, I was in a hurry so I overtook the bus by leaning over to the right part of the road.
A temporary license practice sign must be placed in one of the designated locations in the front or rear.
The temporary license practice sign must be placed on both front and rear locations of the car.
The stopping distance for a standard passenger vehicle traveling at 60 km/h is approximately 20 meters on a dry asphalt road.
Cars and streetcars facing this signal can pause at the stop sign, check for safety, and proceed. (blinking red light)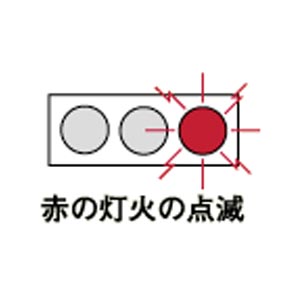 http://menkyoblog.com/
When traveling slower than other vehicles, one should try to stay as far to the left of the road as possible so as not to disrupt the flow of traffic.
If another person in the car opens the door without checking for safety and injures a bicyclist or other passerby on the side, the driver of the car is not liable at all.
The driver of the car is liable if he/she fails to check the safety of the passengers as well as the situation outside.
When stopping before a pedestrian crossing, if there is a stop line, stop just before the stop line.
Where crossing or turning is prohibited by signs or markings, backing is prohibited at the same time.
While driving a car, it is safer to drive with the overall flow of traffic and not change course unnecessarily.
Seatbelts need not be fastened in unavoidable cases such as illness.
Where there is no roadside strip or sidewalk, the shoulder (0.5 meters from the edge of the road) must be kept clear.
This sign is a warning sign indicating "other hazards".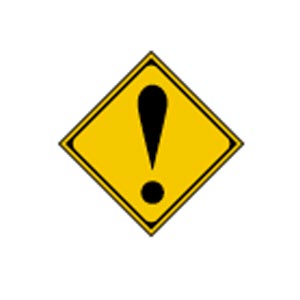 When using engine braking in an automatic car, the change lever should be in 2 or L (or 1).
When turning right at an intersection, if the way of traffic is designated by a sign or other means, you must follow it.
When turning left at an intersection according to the signal, it is not necessary to slow down unless there are pedestrians crossing.
A large-sized special motor vehicle license allows the holder to drive large-sized special motor vehicles, small-sized special motor vehicles, and motorized bicycles.
If you are driving an automatic transmission vehicle and are likely to be stopped for a longer period of time, it is better to put the change lever in "N" and apply the handbrake.
It is called a "Blind spot" when a driver looks out of the car while seated in the driver's seat, and the driver's field of vision is obstructed by the body of the car and other obstacles.
Even at this sign, if the visibility is good and there are no vehicles passing on the intersecting road, one can proceed without pausing.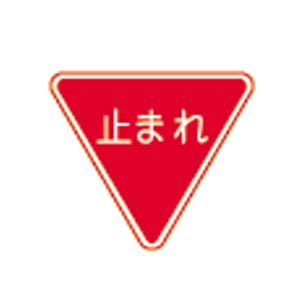 This is a STOP sign. You must come to a complete stop before the stop line or sign.
Traffic rules are set as a "common promises" for safe passage on the road, so even if you are confident that you will not cause a traffic accident, you should follow the traffic rules that have been set.
A vehicle shall pass on the left side of the road when the vehicle in front of it is passing close to the center of the road to make a right turn.
Cars should slow down when passing by bicycles.
When approaching a pedestrian crossing where there is a clear line of sight of pedestrians crossing, the driver may slow down and pass through the area if he/she deems it safe to do so.
When proceeding straight through an intersection (except at a circle intersection) on a motorcycle, proceed with caution because it is difficult to be seen by oncoming four-wheeled vehicles turning right.
It is also prohibited for ordinary vehicles to overtake motorized bicycles where this sign is posted.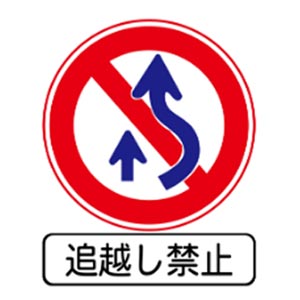 When yielding the right-of-way to an emergency vehicle on a road with no nearby intersections, it is sufficient to pull over to the left side of the road without necessarily stopping.
There was a car stopped in front of the pedestrian crossing, but there was no one crossing the road, so I slowed down and passed through.
When this signal is displayed, pedestrians may begin crossing if there are no passing vehicles. (flashing blue signal)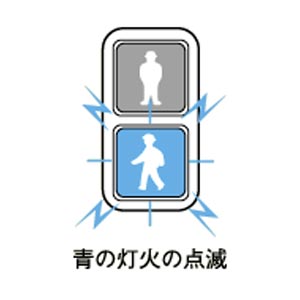 menkyoblog
Flashing blue signal means the pedestrian must being to stop passing as it will soon turn into a Red signal.
Having a driver's license does not merely mean being able to drive a car; one must be aware that there are social responsibilities, including criminal, administrative, and civil responsibilities.
When driving for practice with a provisional license, it is a good idea to drive on busy roads and school routes in order to improve quickly.
This marker indicates the "No Trespassing Area".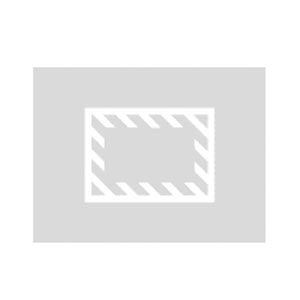 menkyoblog
Near the top of the hill, visibility is poor and dangerous, so one must slow down.
The traffic light in front turned yellow, so I stepped on the brakes several times to alert the car behind that I'm about to stop.
Stepping on the brakes several times is a signal to alert the car behind that you're planning to reduce speed to stop.
This sign indicates that the minimum speed is 50 kilometers per hour.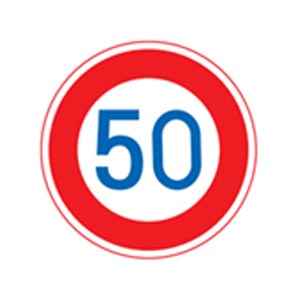 This sign indicates that the MAXIMUM speed allowed is 50 kilometers per hour.
Pay attention to speed and distance when road conditions are poor, when carrying heavy loads, or when tires are worn out.
Large two-wheeled vehicles and regular two-wheeled vehicles are not allowed on roads with this sign, but motorized bicycles may pass.
This is a "Motorcycles prohibited" sign. Motorcycles may not pass.
When a motor vehicle or motorized bicycle changes its course to the left while proceeding in the same direction, the time to signal is approximately 3 seconds before it is about to change course.
When parking an automatic transmission vehicle on an uphill, hold down the brake pedal and pull the handbrake securely, then put the change lever in P.
The traffic zone for buses and other priority vehicles was open, so I drove my car through it, then a bus approached from behind. Since it was not a dedicated bus traffic zone, I continued driving on the same lane.
At intersections with similar road widths where there is no traffic control (except at a roundabout), do not block the progress of vehicles coming from the left.
The car in front of me signaled a right turn and was about to change course to the right, so I sounded my alarm to alert the driver and passed on the right side of that car.
When the change lever of an automatic car is in the P or N position, the car may start moving due to the creep phenomenon.
If you have a copy of your driver's license, you can use it for identification, so you do not need to bring your real driver's license while driving.
You must always bring your original driver's license with you while driving.
This sign indicates that it is a pedestrian and bicycle crossing zone.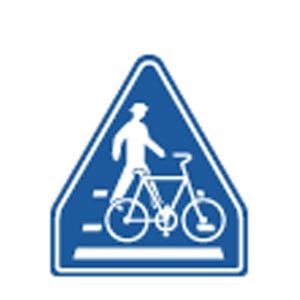 Overtaking is allowed in tunnels with vehicular traffic zones.
The tram stopped, and there were no passengers in the safety zone, so I passed through.
It is especially important to drive with caution on roads marked as school routes, as children may suddenly jump out from behind parked cars.
When a driver with hearing impairment wearing this mark is driving a standard or semi-medium-sized vehicle, you must not pull over to the side of the vehicle or forcibly cut into it, except when it is unavoidable in order to avoid danger.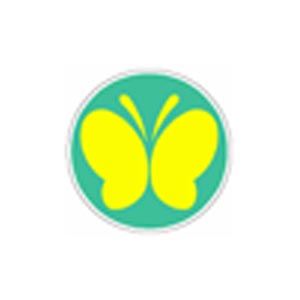 The maximum speed of a motorized bicycle is 30 kilometers per hour unless otherwise specified by signs.
Karimen English Exam Driving License Practice Test 3
Needs more practice
Don't give up! Doing practice exams will help you get better! Good luck and keep on trying! Source Material: menkyoblog
Nice try!
It's not a bad result. Keep on practicing and remember to take breaks~ Good luck! Source Material: menkyoblog
Good job!
You're doing great with the results! Keep practicing! Source Material: menkyoblog
Almost
Just a few more to pass the exams! Good luck and try to take some more! Source Material: menkyoblog
Congratulations!
You passed the mock exam! Good luck on the actual one! You can do it! Source Material: menkyoblog
MORE PRACTICE EXAMS
●Karimen English Exam Driving License Practice Test 1
●Karimen English Exam Driving License Practice Test 2
●2022 Karimen English Exam Driving License Practice Test 4
●Honmen English Exam Driving License Practice Test 1
JN8 -JAPANnavi8-
Information site supporting foreigners living in Japan.