Japan and Amerika vows to help Philippines against terrorism
According to Malacañang, two big countries have expressed their support to Philippines; America and Japan. On Monday, February 11, 2018, Presidential Spokesman and Chief Presidential Legal Counsel Salvador S. Panelo announced that America will provide 300 million pesos for intelligence aid while the Japanese Foreign Minister Taro Kono has pledged to support the Philippines in the fight against terrorism. Panelo is delighted because the Philippines and America's good relations remain solid in terms of war and terrorism. Although the Japanese minister did not specifically say how they would help the Philippines, Panelo said they would accept any assistance Japan would provide. He also emphasized Japan's commitment to restore rehabilitation and reconstruction of the Marawi and development of the Autonomous Region in Muslim Mindanao, including the funding of the Road Network Development Plan for the region.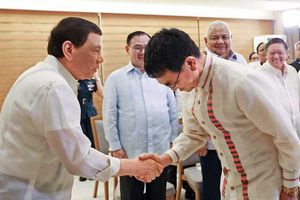 ©philstar
Kono acknowledged the contribution of the Philippines to the socioeconomic growth in Japan and also introduced that they would open a job for qualified Filipino employees.
The President expressed his appreciation to Kono for attending the inauguration of Japan's Consulate in Davao which he described as "significantly expanding Japan's presence and ties in the Southern Philippines." The President added that Japan is truly a true friend and can prove it in solidarity with started the "Build, Build, Build" program involving the development of infrastructure and technology that will help Filipino practitioners and experts.
©BusinessMirror