Japan Trench Quake

©ANNnewsCH
According to Japan's panel of government, the possibility of a 7.0 magnitude earthquake in Japan Trench is 90% over the next 30 years.
The Japan trench in eastern Japan is where the Pacific plate is sinking between the continental plates. Here is the place where there are so-called mega-quakes, just like the earthquake that struck eastern Japan in March 2011.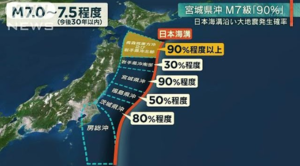 And on Tuesday, they released the results of their new study about the trench. It is said that almost 0% of the chances of experiencing magnitude-9 mega-quakes.
But 90% is the chance to experience 7.0 to 7.5 magnitude earthquake in eastern Aomori, northern Iwate and Miyagi prefectures.
Panel leader Naoshi Hirata, a professor at the University of Tokyo, warned people in northeastern Japan that it doesn't mean that there will be no mega-earthquakes anymore but advised everyone to be ready always.
Source: NewsOnJapan.com