Are you ready to have a baby? Read this, it can help you somehow..
The year 2018 has the lowest rates of birth rate in Japan. Some of the reasons for low birth rate in Japan are long hours of work, difficult to balance personal life and work, and too expensive to grow a child.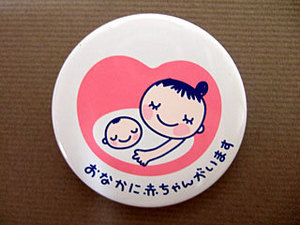 © Litle Gaijin in the Big City
Are you ready for a baby? It helps you answer that question after reading these six things about having a baby.
1. The use of pain reliever and anesthesia in Japan is not common.
Majority in Japan's hospital does not offer a pain reliever while a patient is in labor. They consider it as pride to bear the pain or "gaman" for not using any pain reliever.
But lately last year, they have already called mutsu bunben or "painless delivery" with anesthesia injected in the spine but only skilled hospitals on that field perform it. The fee to have anesthesia   is too expensive because it is estimated to reach 100,000 yen depending on the hospital. If you're willing to take the price and badly want it, consider yourself lucky if you deliver your baby from Monday to Friday, from 9am.m. until 5 p.m. because the majority of hospitals do not offer anesthesia when not at that time, as only a few are skilled in doing those procedure.
2. The man behind the curtain. 
Part of their patriarchal culture, most OBGYNE in Japan are men. But still, the patient's privacy is important to them, during the procedure, behind the curtain there is a doctor who explains each procedure to do with the patient. Therefore, the procedure may take a very long time but safe delivery is guaranteed.
Japan is known for being "teinei" or careful on their work. As long as they can provide the service to satisfy the customer.
3. Doctor is strict when it comes to weight gain. And it's not forbidden to eat varities of sushi!
Unlike western countries, there are many prohibited foods especially raw or half-cooked foods. But here in Japan they will not stop you to eat sushi but you must control eating it especially on the food with high levels of mercury and as long as the food preparation performed right. They even advise that it is better to eat a wide variety of food for nutrition of a growing baby in the tummy. They are strict when it comes to weight. Their ideal weight gain is only five kilos. It is believed that they are well-monitored on their weight to lower the risk of overgrowth baby and does not need to perform ceasarian section.
4. Give your full trust to your Doctor. Never question them.
Unlike other countries, it is not easy to ask or question the "sensei" or doctor in Japan because they are the most respected above all. There is a chance that everything does not explain much about pregnancy. Questioning their way of assessing you will sometimes considered as "shitsurei" or disrespectful and may offend them. Japanese expectant mothers trust their doctors so what their doctor will say is that they will follow. But do not worry because their doctors can not be denied that they are the best because around the world, Japan has the lowest infant rate and maternal mortality rate.
5. Tradition.
In the hospital they will give you a pamphlet with informations regarding your pregnancy, you'll find here the chart where when the Inu No Hi or Day of the Dog is.
Maybe you're asking, what is the connection of a dog in pregnancy? Dogs, when giving birth is easy and not that complicated compared to the human being. That's why during the fifth month of pregnancy, expectant mothers are advised to go to the shrine and pray for safe delivery on the day of the dog.
Another tradition is keeping the umbilical cord. Some hospital has a policy that they will take a small part from the umbilical cord of the child after birth, placed in the special box and give it to the parent. It symbolizes good bond between mother and child. Should also keep the mother's belly warm by using the belly band and also socks covering the ankle.
And one of the most important part of their traditions is "satogaeri shussan" or returning to parents home within a month after giving birth so someone can take care for them, do household chores to make a quality time between the baby and mother.
6. Expensive hospital expenses.
Because pregnancy can not be considered as illness, their national health service can not be used. Therefore, it is expected that the cost of the hospital will be expensive, BUT there is government assistance, known as Childbirth and Childcare Lump Sum Grant. They are giving 420,000 yen, so you just have to provide a little from your pocket..
The government also provides 15,000 yen for newborn as a support up to 3 years old and will be 10,000 yen until the child reaches the third year junior high school. But if you can research well, there are also hospitals that are cheaper and have good services like massage, freebies, full course meals good rooms and other services depending on the hospital.
There's an english speaking hospital in Tokyo but a bigger budget is needed.
Source: Japan Today