Japanese Interview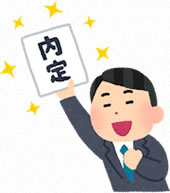 A standard interview at a Japanese company is a mysterious dance of cultural cues and codes that involves a lot of bowing. As a foreigner you are not expected to know every single rule but it's always good to know the most basic.
Let's start with the appropriate attire.

• Clean hair
• Clean shaved
• White shirt and necktie
• Ironed suit (navy/dark grey/black)
• One-buttoned jacket
• Brushed/waxed/clean shoes
• Briefcase type business bag

• Natural or nude makeup
• Tied hair
• White shirt with a collar
• Dark colored business bag A4 size, can stand on the floor
• Neutral color jacket, skirt or pants (navy, dark grey, black)
• Neutral stocking
• Dark shoes (dark brown, black)
Tip: If you are a fresh graduate your suit should be black.
BEGINNING THE INTERVIEW
• Lightly knock 3 times
• Wait for an answer, usually どうぞ = douzo
• Say 失礼します = shitsureishimasu
• Open the door
• Bow
• Close the door
• Place yourself next to the chair in front of the interviewer
• Introduce yourself in Japanese : [Last name, first name]と申します = to moushimasu. 本日はよろしくお願いします = honjitsu wa yoroshiku onegaishimasu
• Wait for an invitation to sit down, usually お座りください = osuwari kudasai
• Sit down while carefully put your bag and belongings on one side (see example below)
ENDING THE INTERVIEW
• After making sure that the interview is over, while still sitting, say 本日はお忙しい中、お時間をいただき、誠にありがとうございました = honjitsu wa ohisogashii naka, ojikan wo itadaki, makotoni arigatougozaimashita
• Bow while sitting
• Stand up to side of the chair
• Say 失礼します = shitsureishimasu
• Bow
• Head towards the door
• While facing the interviewer, say one last time 失礼します = shitsureishimasu
• Leave the room, quietly close the door and silently scream (just kidding on that last one)
Top tips
• Try not to speak while bowing, always finish your sentence before bowing.
• Don't put anything on the table, including your arms.
Source: GaijinPotBlog