Japanese Onsen Etiquette
Important Words to Know
Onsen (Hot Spring) vs. Sento (Bath House)
An Onsen (温泉) is a Japanese hot spring using natural hot mineral-rich water pumped from underground in places with volcanic activity. Onsen water has to be at least 25 degrees Celsius when it is pumped up and must contain at least one of 19 designated chemical elements that naturally occur in hot spring water.
A Sento (銭湯) is a simple bath house. Here, the water is often normal groundwater heated up at the facility to a bath temperature of between 38 and 48 degrees Celsius.
How to Recognize an Onsen
Many times you will find Onsen or Sento on maps using either the following symbol or the Kanji "湯" meaning hot water. It might also use the Hiragana "ゆ" meaning the same thing.
At the entrance of many Onsen or Sento often hangs a half-length curtain inscribed with the letter "ゆ".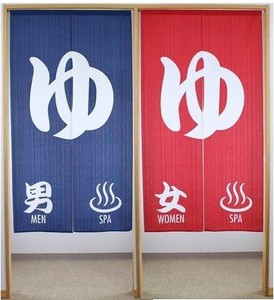 In many Onsen, especially where there are foreign visitors there are pictures with the most important rules written in the changing area or the bathing area. Pay attention to those before you go in. But to get you started read the following rules carefully.
No Tattoos
Most Onsen don't allow entry to people with tattoos, this has an origin in older times when only Yakuza (the Japanese mafia) were tattooed in Japan. Yakuza were denied entry to Onsen, which is still the case today. Of course, nowadays not only Yakuza have tattoos and even in Japan, it has become more common for the general population to have tattoos. But the rules in Japan change only slowly and most Onsen don't welcome guests with visible tattoos.
If you have a small tattoo and want to visit and Onsen anyways we have two suggestions: Either cover the tattoo with a bandage if it is small or search specifically for an Onsen that allows visitors with tattoos. Please don't ignore the rules and visit an Onsen where tattoos are forbidden if it is not possible to cover it up when you are naked. Other guests might take offense and report you to staff.
No Swimwear Allowed
You might already know this part but I think it won't hurt to mention it again: You are not allowed to go into an Onsen pool with any clothes. This includes swimwear like bikini or shorts. The only exception to this rule is in case of a mixed bath where special clothes are provided for the ladies. Usually, after you get undressed in the change room you won't take anything but a small towel with you into the Onsen.
Cleanliness
1.Wash your body. An Onsen is not a swimming pool. The water is not full of chemicals to keep it clean so it is the responsibility of everyone using it to keep it as clean as possible. One way to accomplish this is by cleaning your body thoroughly before you enter an Onsen pool. There are usually shower areas where you can wash. They usually include a mirror, stool, buckets, body soap, and shampoo. If no area to take a shower is provided, this might be the case in very small Onsen, there is usually a bowl where you can take the water out of the pool and rinse your body off before entering.
2.Rinse off your Feet. Especially if there is an outdoor area make sure to rinse off your feet before you step into a pool. Usually, they will provide some kind of bowl to get some water out of the Onsen so you can rinse your feet before stepping in. If there isn't you can alternatively use your hands to scoop some water.
3.Don't Put your Towel into the Water. Most people bring a small towel with them into the bathing area. The use it to clean their body before entering a pool in the washing area, and to cover their bodies while walking around. Please be careful not to put the towel into the water of the Onsen pools as this is considered unclean. Most people will either place it on the side of the pool or on their heads.
4.Keep your Head and Hair out of the Water. For your own health keep your head out of the water. Even though the bath water is kept as clean as possible, it is still possible to contact infections, and more easily if your face gets in contact with the water.
If you are a girl with long hair, make sure to put them up so they won't float around in the water. You wouldn't want to bath in other people's hair either so be considered and don't forget to bring a hairband.
No Alcohol but Plenty of Water
For obvious reasons (heat and alcohol don't mix) there are usually signs that tell you not to drink alcohol in an Onsen, or before going into one. Of course, it is up to you if you want to follow this rule.
In general, it is advisable to drink a lot of water after you are done with your bath and we recommend you do that before you open a nice cool beer. The Japanese also love to drink milk after a bath and often there are vending machines selling milk, coffee or cocoa in the break area or around the exit.
No Pictures
You probably wouldn't want to be naked in other people's pictures, so please respect everyone's privacy and refrain from taking any pictures.
If you follow all these tips I am sure you will have a lovely time without offending anyone because you will have followed the Japanese Onsen Etiquette.
Source: The Social Travel Experiment