How to buy and sell your stuff using Mercari app Japan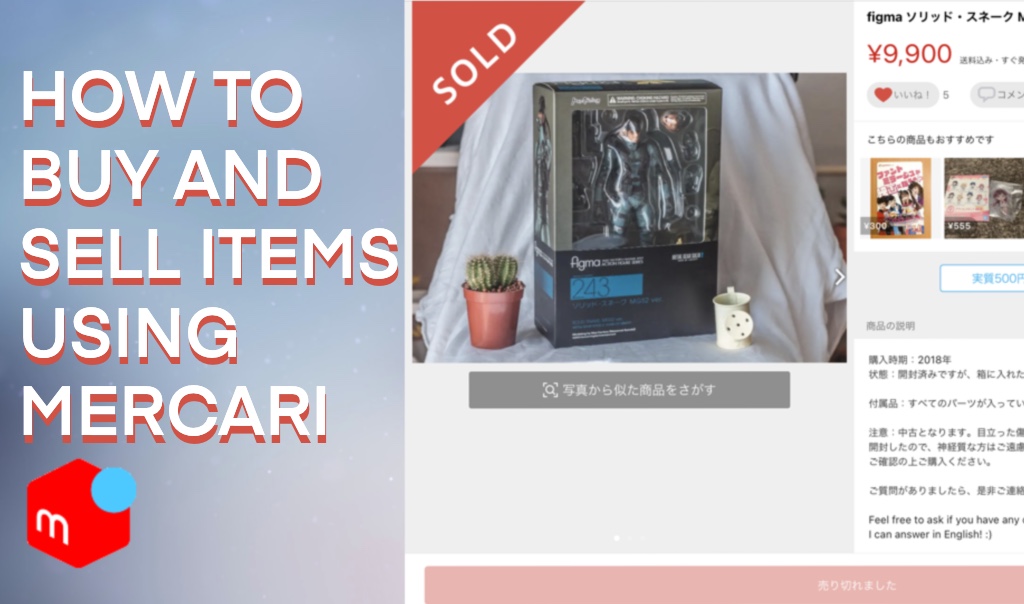 Mercari is one of the famous buy and sell flea market applications here in Japan. It started in 2013, and because of its very easy buy and sell methods, it quickly rose to fame and now has around 16 million monthly active users. Mercari has now expanded its services and now has Mercari USA and Mercari UK.
As of the moment, Mercari Japan can only be used in the Japanese language. So we're here to help guide you in the process!
HOW TO SELL ITEMS ON MERCARI?
It's very easy to sell items on Mercari. But first, you have to create an account, you can do so by registering an email address or creating an account using Google, Facebook, or Apple ID. After doing so, you can proceed to sell your stuff.
1. Take a good picture of the item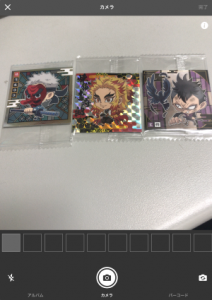 When taking pictures of the item, I highly suggest taking the picture with a good amount of light. Also, taking the back and side parts of the item would be a good practice. This is to let the buyers be informed about the item's status especially if the items have scratches or defects.
It's also good to let the buyers know the items included in your product. If it has small accessories like figures, better to take pictures of everything that will be included in your product.
2. Add a good description of the items you're about to sell.
At this point, you're already done taking pictures. You now have to put descriptions and select the right category of your item. It's also a good practice to put a good description of the items, especially if it's not brand new or has scratches. This is important to not get bad reviews after shipping the item. It's also better to put details like brand name, size, color, contents, item conditions, etc. We're gonna list some things that are best to put on the description box and also post translated images to help guide you.
You can actually take a picture of the item you're about to sell and if the Mercari system detects it, the item's description automatically comes out. This is true especially in books, where you just need to scan some book's bar code and the details will appear. Convenient right?
| | | | | |
| --- | --- | --- | --- | --- |
| ITEM NAME: | ブランド | | DATE PURCHASED: | 購入時間 |
| SIZE: | サイズ | | CONDITION: | 状態 |
| COLOR: | 色 | | CONTENTS: | 付属品 |
| MATERIALS: | 素材 | | NOTES: | 注意 |
| MEASUREMENTS: | | | | |
| | | |
| --- | --- | --- |
| | | |
| This is the main screen where you have to put the product details. | | Shipping field and pricing section. |
| | | |
| Category field where you can select the item category. | | Item Condition. This is very important because buyers tend to confirm this first before buying. |
ADDITIONAL ITEM DESCRIPTIONS THAT YOU CAN USE AT MERCARI APP
| | |
| --- | --- |
| すべてのパーツが入っています。 | All parts are included. |
| 開封したので、神経質な方はご遠慮願います。 | This item has already been opened, please understand. |
| 目立った傷や汚れがありません。 | No scratches or dirt that stands out on the item. |
| 新品に近いです。 | The item is as good as new. |
| 中古ですので、ご了承ください。 | The item is a second-hand item. Please understand. |
| | |
SAMPLE OF A SOLD ITEM WITH COMPLETE DESCRIPTION AT MERCARI.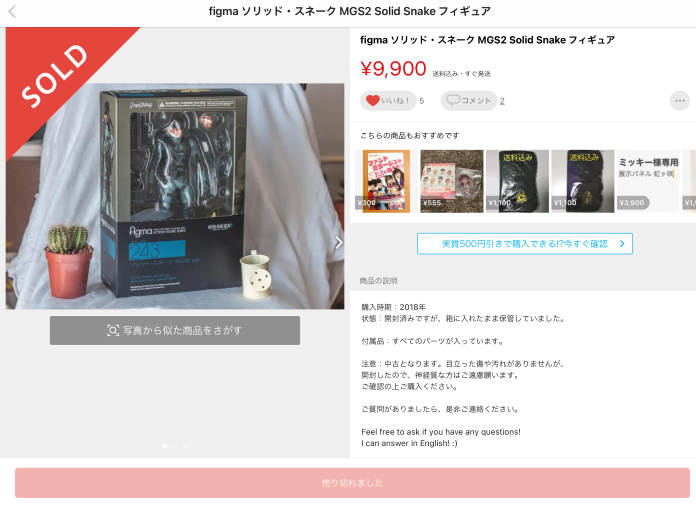 3. Confirm all the details and click 出品 button to post the item on sale!
Once uploaded, you will see the items you're selling on your profile. You can still re-edit the descriptions and pricing if you need to by just accessing the item page.
WHAT ARE THE ITEMS THAT CAN BE SOLD AND CANNOT BE SOLD ON MERCARI?
Clothes, shoes, bags, figures, small toys, make-up kits, gadgets, appliances, almost anything can be sold on Mercari. Instead of throwing away things that can still be used, you can try Mercari and sell those things! Some have been using Mercari to do Buy and Sell on rare anime figures because the price changes depending on what's latest and what's hot.
On the other hand, Cigarettes, fake branded items, and hazardous materials cannot be sold using Mercari as it may cause danger.
WHAT COURIER SERVICE CAN I USE TO SEND THE ITEMS?
Mercari has a lot of partner convenience stores that you can visit to send your items. And you don't need to pay because the shipping fee is included in your shipped item's transaction! You can use common convenience stores like Family Mart, Lawson, 711, including carrier services like Yamato Kuroneko and Japan Post Office.
We'll make more detailed information on how you can send items on the partner couriers, what box size should I use, etc on our next blog about Mercari!
WHAT IF PROBLEMS OCCUR WHILE TRANSACTING?
Don't worry because Mercari has very good Buyer and Seller protection support. They even have a review section where each every transaction, you can give a rating to the buyer or seller and make comments about the transaction. Also, if you're a buyer, the money won't easily transfer to the seller unless the buyer confirms it and the item arrived successfully.