How is the Omicron strain different from the common cold? Comparing infectivity, symptoms, and manifestations
01/12/2022
What is the difference between the Omicron strain, which is said to have many symptoms similar to those of the common cold, and the other coronavirus types?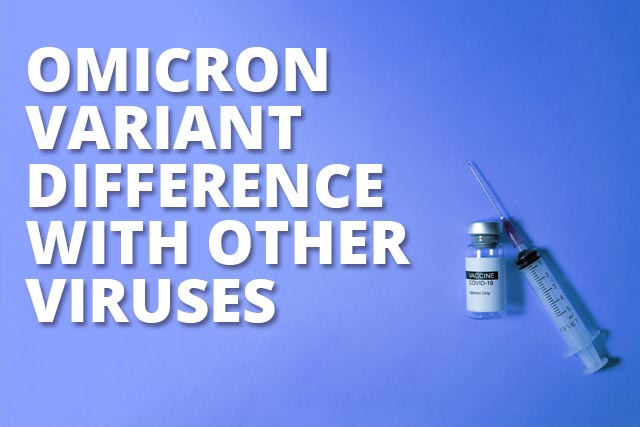 ▽Common Fever
Infection rate: Not very strong
Symptoms: Mostly low fever of 37-38 degrees, sneezing, runny nose, nasal congestion, cough, sore throat, etc., mainly in the upper respiratory tract
Onset of symptoms: Slow
▽Influenza
Infection rate: Strong
Symptoms: High fever, rapid onset of fever of 38 degrees or higher, joint pain, muscle pain, headache, chills, and other systemic symptoms appear rapidly
Onset of symptoms: Rapid
▽Coronavirus (mainly delta strains)
Infection rate: strong, very strong (more than influenza)
Symptoms: asymptomatic, low fever or high fever, cough, headache, loss of energy, loss of taste and smell
Onset of symptoms: slow but rapid onset of severe disease, may be complicated by pneumonia
▽Coronavirus (Omicron variant)
Infection rate: more intense (more than Delta strain)
Symptoms: Same symptoms as Influenza, affects mainly in upper respiratory tract
Symptoms: Less severe
As for the coronaviruses, they are even more troublesome than the influenza virus, as they cause more problems in the lungs, and although there are not many cases of the Omicron strain, it seems certain that the infectivity of this strain will be even greater than the Delta strain.
On the other hand, the virus affects the upper respiratory tract mainly rather than the lungs. But it is difficult to distinguish from a cold or flu.
In terms of medical care, the approach to patients with severe illnesses was very important for the Delta strain, while for the Omicron strain, the number of patients with severe illnesses is small, and when many patients with mild illnesses appear, the question is how to distinguish between the two and continue treatment outside of hospitalization.
If you feel the symptoms of a cold, it is strongly recommended to have it checked and get isolated.
It's hard to tell the difference between a cold, influenza, and a new coronavirus. Omicron strains are particularly difficult to distinguish, so it is important to see a doctor at a hospital where tests are available. It is important not to force yourself to go to work or school on weekends or late at night when you cannot be examined. The use of commercially available test kits is also an option.
For effective ways to prevent from getting COVID19, please check out and click the image below.