Cherry Blossoms peak bloom for 2022, released!
01/19/2022
In anticipation of the long awaited cherry blossom season, Weather News has released the "First Cherry Blossom Forecast" for 2022. The first cherry blossoms to open will be in Tokyo and Hiroshima on March 15, which is earlier than normal for the whole country.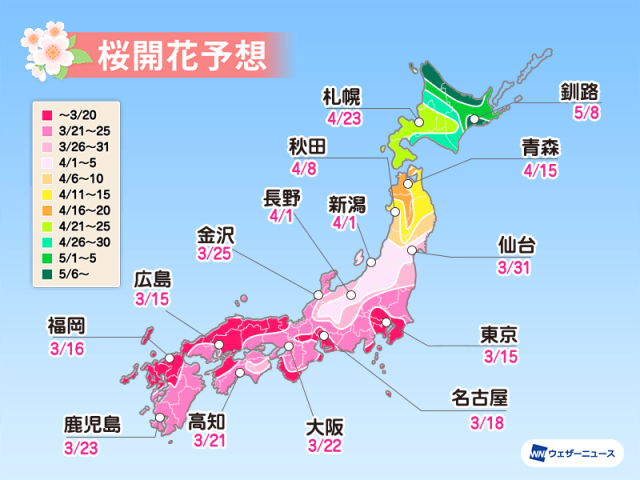 cherry blossoms peak 2022 (wni)
Kagoshima: 23 March
Fukuoka: 16 March
Kochi: 21 March
Hiroshima: 15 March
Osaka: 22 March
Nagoya: 18 March
Kanazawa: 25 March
Tokyo: 18 March
Nagano: 1 April
Niigata: 1 April
Sendai: 31 March
Akita: 8 April
Aomori: 15 April
Sapporo: 23 April
Kushiro: 8 May
We have predicted the blooming dates based on more than 2 million cherry blossom reports received from the participants of the Sakura Project over the past 18 years, our own interviews with famous cherry blossom viewing spots, and weather forecasts such as temperature. Please refer to this page to find out when the cherry trees in your neighborhood will start blooming.
In 2022, the Someiyoshino cherry trees are expected to bloom in many areas earlier than normal.
Especially in eastern and northern Japan, it will be 5 to 10 days earlier than normal. This is about the same as last year's record-breaking bloom across the country.
This is because the temperature in February and March will tend to be normal to high, and the buds of cherry trees will grow steadily. In particular, from March, we can expect more sunny and warm days, which will support the flowering process.
Ahead of the rest of the country, flowering will start in Tokyo and Hiroshima on March 15, followed by Fukuoka on March 16.
In late March, the flowers will begin to bloom in western and eastern Japan, and also in southern Tohoku.
The cherry blossom front is expected to arrive in Hokkaido in late April, blooming in Hakodate on April 21, Sapporo on April 23, and Kushiro on May 8.
JN8 -JAPANnavi8-
Information site supporting foreigners living in Japan.