'I killed my wife,' calls acquaintance. Woman dead in condo.
01/26/2022
SHIZUOKA – Yesterday afternoon, the body of a woman in her 60s who lived in this room was found in an apartment in Numazu City, Shizuoka Prefecture. Her husband, who is still missing, has been making comments implying that she was murdered, and the police are investigating the case as a possible homicide.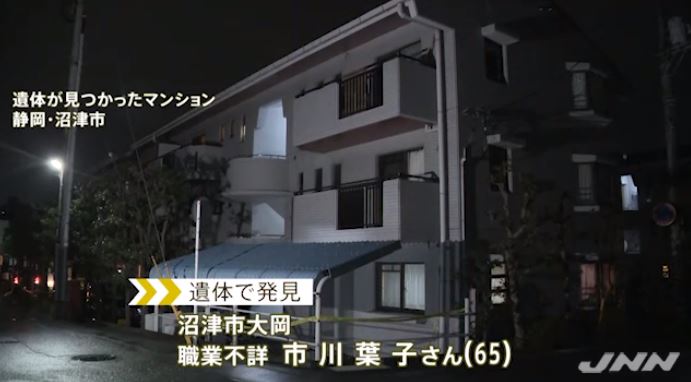 'I killed my wife,' calls acquaintance. Woman dead in condo. (JNN)
The body of Yoko Ichikawa, 65, of Numazu City, whose occupation is unknown, was found. According to the police, just after 3:30 p.m. yesterday, an acquaintance of Ms. Ichikawa called the police to report that she had received a phone call from her husband suggesting that he was going to kill her.
The police found her body in the apartment where she lived, and there were no signs of a struggle at the scene. Her husband, who was living with her, has since been out of contact.
According to officials, the missing husband told a woman he knew on the phone, "I killed my wife. I'm going to die too," he said over the phone.
The police are investigating as if Ms. Ichikawa was murdered by her husband, and are searching for him as they believe he knows something about the situation.
JN8 -JAPANnavi8-
Information site supporting foreigners living in Japan.