Man kills former girlfriend over an affair: "I Choked Her to Death"
01/28/2022
TOKYO – A company employee has been arrested by the Tokyo Metropolitan Police Department for murdering his former girlfriend in her 20s in their apartment in Koganei, Tokyo. It is believed to be a problem in an adulterous relationship.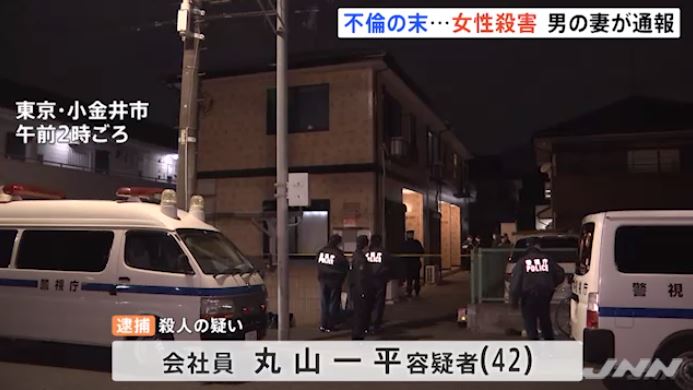 Man kills former girlfriend over an affair: "I Choked Her to Death" (JNN)
Ippei Maruyama, 42, a company employee, was arrested on suspicion of murder and is suspected of strangling his former girlfriend, a woman in her 20s, to death in an apartment in Koganei City on the night of yesterday (27th).
According to the Tokyo Metropolitan Police Department, Maruyama returned home after the crime, and the incident was discovered when his wife called 110, saying that her husband had killed someone. When police officers arrived at the apartment, they found the woman lying on the bed, with strangulation marks on her neck, and she was later pronounced dead.
When questioned, Maruyama admitted that he strangled the victim to death due to relationship problems.
JN8 -JAPANnavi8-
Information site supporting foreigners living in Japan.