JOB No 10101002EN
au Shop Sales Staff
¥1,300~
Aichi, Nagoya City Nishi Ward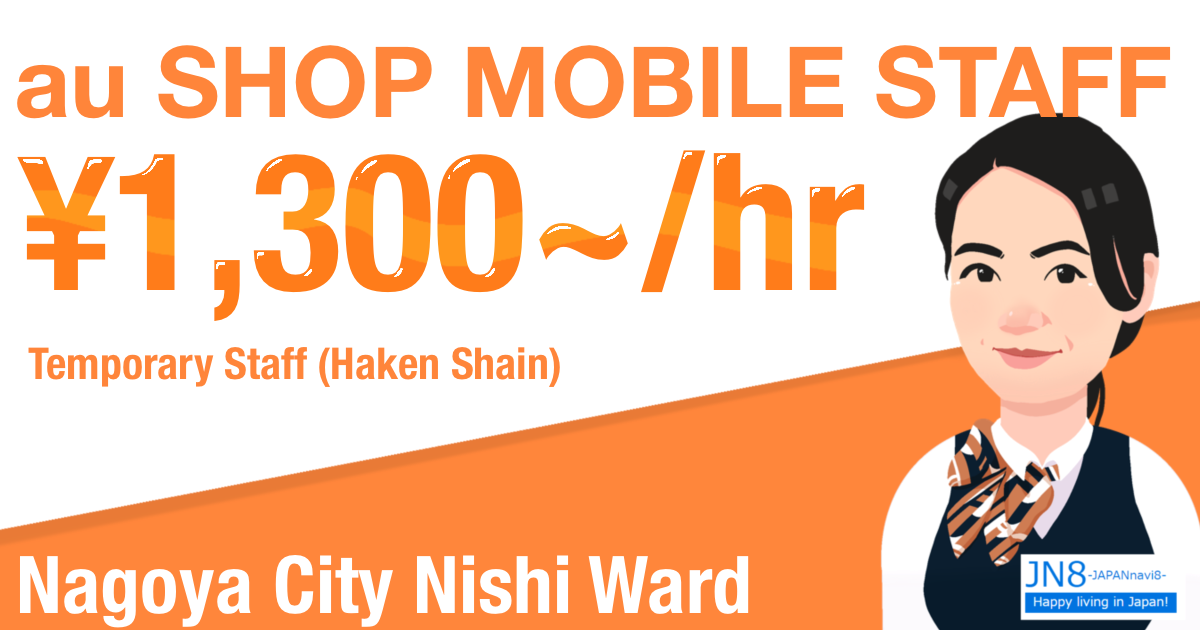 ■Job Description
Sales Staff; Interpreter
■Employment Status
Dispatch Staff (Hakenshain)
■Place of Work
Aichi, Nagoya City Nishi Ward
■Mode of Transportation
Kami Otai Station (5minutes walk)
■Prerequisite
None
■Preferential Conditionn
Mobile sales experienced persons, qualified holders such as TOEIC, JLPT exams will be given preferential treatment.
Can speak Japanese.
■Working Hours
①10:00~19:00
②11:00~20:00
③12:00~21:00
※8 hours of work; 1-hour break (with overtime about 10hrs./month)
■Holiday・Vacation
9~10 days off
※you are free to submit your preferred day-off (only 3 days)
After 6 months, you will be given 10 days of paid leave.
■Welfare benefits
Complete payment for transportation expenses (payment for gasoline to car commuters)
Housing allowance (in case of relocation accompanying assignment) 5,000/month
Social insurance
Career consulting support
■Remarks
With salary in increase (good job performance)
There is regular employee introduction
Expected salary 220,000 yen ~250,000 yen