JOB No HYG-HMJ-OS001-EN
Hybrid Vehicle Battery Plates Machine Operator
¥1,200/hour
Hyogo, Himeji City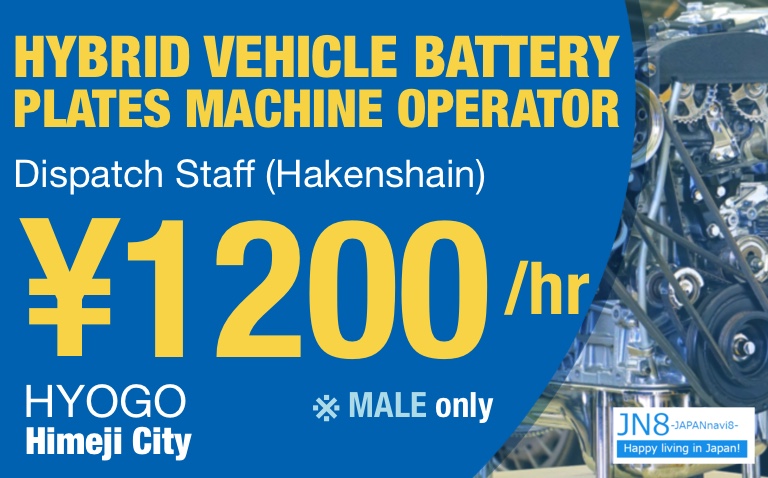 ■Job Description
Hybrid Vehicle Battery Plates Machine Operator
■Employment Status
派遣社員
■Place of Work
Hyogo, Himeji City
■Mode of Transportation
Free bus if from Shirahamanomiya Station・Bicycle (15 mins)・Car・Motorcycle
■Prerequisite
None
■Preferential Conditionn
※ MALE only
※ Up to 45-years old may apply.
Up to 50-years old may apply if experienced.
■Working Hours
Shift:  2-shifting schedule
①09:30~19:00
②20:30~06:00

※There is a possibility of work during Holidays.
■Holiday・Vacation
4 Days work 2 Days Rest day shift
■Welfare benefits
Travel Allowance: Up to 30,000円 per month will be shouldered by the company.
■Remarks
Nearest Station: Shirahamanomiya Station
Dormitory fee: 50% of the rent is possible to be shouldered by the company. The company will provide 25,000円~30,000円 for the rent expense.

Career Consultation Support
JN8 -JAPANnavi8-
Information site supporting foreigners living in Japan.