JOB No TYM-IMZ-OS002-EN
Machine Operator, Inspection & Baritori Staff
¥1,500/hour
Toyama, Imizu City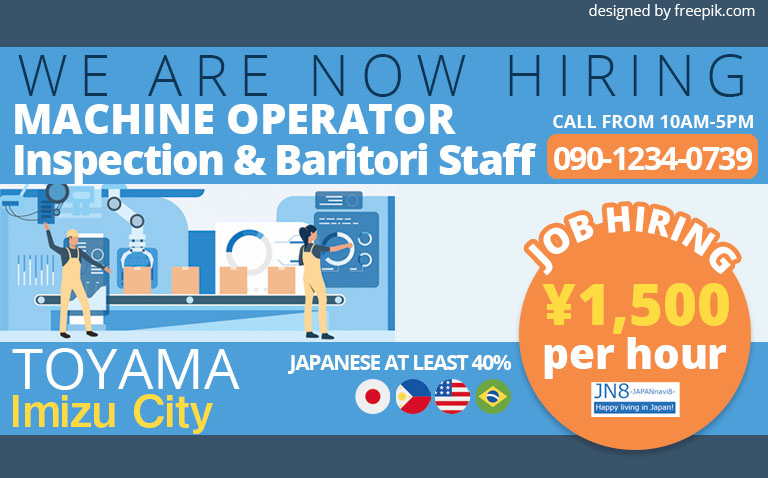 ■Job Description
Machine Operator, Inspection & Baritori work for car aluminum parts
■Employment Status
Dispatch Staff (Hakenshain)
■Place of Work
Toyama, Imizu City
■Mode of Transportation
By Car, Bicycle, Public Transportation
■Prerequisite
Japanese conversation level at least 30%
■Preferential Conditionn
※ Job is available for Male and Female applicants
※ Up to 49-years old may apply
■Working Hours
Shift: 2-Shifting schedule
①08:30~16:50
②21:00~05:50
■Holiday・Vacation
Shift system (Saturday and Sunday off or shift system (possibility of 3 teams and 2 shifts))
Annual holidays: 121 days
Company calendar
(Other long vacations available)
Golden Week, summer vacation, winter vacation
■Welfare benefits
Health insurance, welfare pension, unemployment insurance, worker's accident compensation insurance
Commuting expenses: Up to 30,000 yen/month

★Retirement allowance
★Bonuses
※Bonuses will be paid in advance and included in monthly salary.
★Salary increase
※There is a possibility of wage revision according to the annual evaluation.
★100,000 yen as an entrance gift
★Free dormitory fee
★There is a promotion system for full-time employees.
★Social insurance is provided.
★Daily payment system available
★Overtime, late night and leave allowance
★One room dormitory with equipments
★Company paid travel expenses for relocation
★Transportation expenses paid
★Commuting by car, motorcycle or bicycle is possible.
★Paid vacations
★Free rental of work clothes
★Canteen available
★You can bring your own lunch.

※Each treatment is subject to regulations.
■Remarks
Work location and access method
Work location: Around Imizu City, Toyama Prefecture
Nearest station : Kosugi Station on the Aino-kaze Toyama Railway Line
Commute time : 15 minutes by car
Commuting time: 15 minutes
15 minutes by car from Kosugi IC on Hokuriku Expressway.
Free parking is available outside the factory.

About smoking
No smoking indoors (smoking room available)

Dormitory
One-room dormitory
No dormitory fees! The dormitory is equipped with home appliances and fixtures, so you can start living right after you move in! We are proud of our delicious seafood in the area!

Where to apply
Outsourcing Co.
Applications and interviews will be handled by OUTSOURCING Inc.