JOB No ACH-AMA-TH001-EN
Cake and Dessert Factory Food Production Staff
¥1,100/hour
Aichi, Ama District, Kanie Town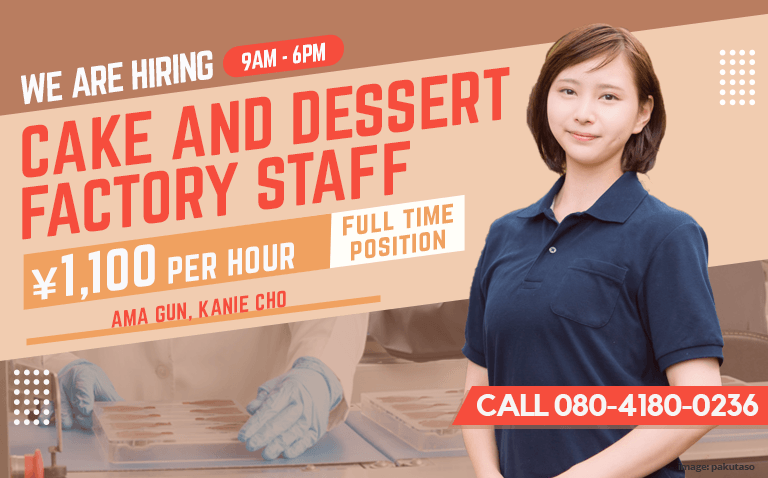 ■Job Description
All functions relating to the production of specialties, produce and decorate line of specialty desserts.
■Employment Status
Dispatch Staff (Hakenshain)
■Place of Work
Aichi, Ama District, Kanie Town
■Mode of Transportation
With service (sougei). Pick-up locations: Sakae Kawaramachi in front of BMW, Chunichi Biru exit 13
■Prerequisite
Can speak Japanese level at least 30%; No special skills required.
■Preferential Conditionn
※ We accept applicants until 50 years old.
※ Applicants who can work on Saturdays.
■Working Hours
9:00-18:00 (9AM to 6PM)
■Holiday・Vacation
Work is 5 days a week including Saturday.
DAY OFF: Every Sunday and one day on weekdays (you can choose from Monday-Friday)
■Welfare benefits
※ Transportation expenses support with maximum of 8,000 yen per month.
※ Housing allowance (in case of relocation accompanying assignment) 55,000 yen/month
※ Social insurance (Shakai Hoken)
■Remarks
*Service (souge) costs 10,000 yen/month. (They will automatically deduct it from your salary.)
*With bicycle provided. CONDITION: You must have to work at least three(3) months in the company for the bicycle to be consider FREE or else you have to pay 12,000 for the bicycle.

With service (sougei). Pick-up locations:
Sakae Kawaramachi in front of BMW, Chunichi Biru exit 13