JOB No ACH-AMA-TH001-EN
Cake and Dessert Factory Food Production Staff
¥1,050/hour
Aichi, Ama District, Kanie Town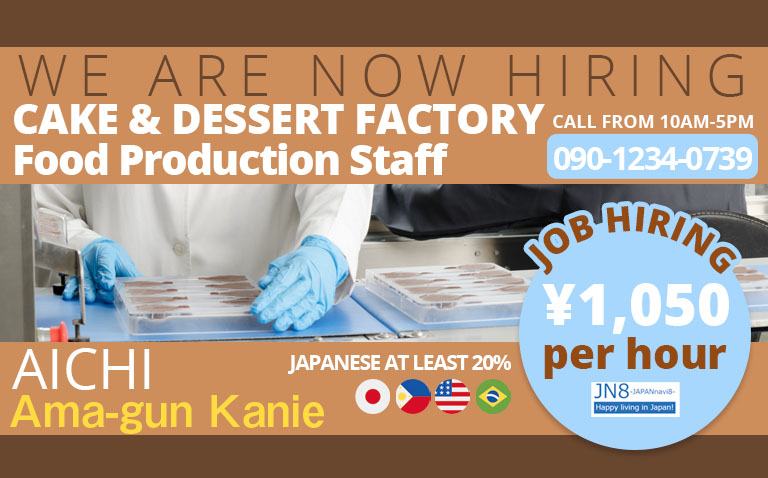 ■Job Description
All functions relating to the production of specialties, produce and decorate line of specialty desserts.
■Employment Status
Dispatch Staff (Hakenshain)
■Place of Work
Aichi, Ama District, Kanie Town
■Mode of Transportation
With service (sougei). Pick-up locations: Sakae Kawaramachi in front of BMW, Chunichi Biru exit 13
■Prerequisite
Can speak Japanese level at least 30%; No special skills required.
■Preferential Conditionn
※ We accept applicants until 50 years old.
※ Applicants who can work Saturdays.
■Working Hours
9:00-18:00 (9AM to 6PM)
■Holiday・Vacation
Work is 5 days a week including Saturday.
DAY OFF: Every Sunday and one day on weekdays (you can choose from Monday-Friday)
■Welfare benefits
※ Transportation expenses support with maximum of 8,000 yen per month.
※ Housing allowance (in case of relocation accompanying assignment) 55,000 yen/month
※ Social insurance (Shakai Hoken)
■Remarks
*Service (souge) costs 10,000 yen/month. (They will automatically deduct it from your salary.)
*With bicycle provided. CONDITION: You must have to work at least three(3) months in the company for the bicycle to be consider FREE or else you have to pay 12,000 for the bicycle.
JN8 -JAPANnavi8-
Information site supporting foreigners living in Japan.