JOB No TYM-OYB-OS001-EN
Aluminum Housing Materials Manufacturing Staff
¥1,200/hour
Toyama, Oyabe City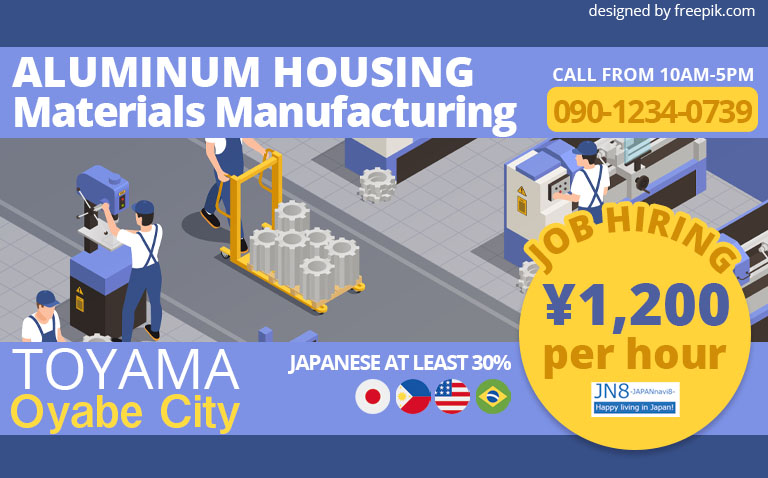 ■Job Description
Aluminum housing materials manufacturing work
■Employment Status
Dispatch Staff (Hakenshain)
■Place of Work
Toyama, Oyabe City
■Mode of Transportation
By Car, Bicycle, Public Transportation, Shuttle Service (Sougei)
■Prerequisite
Japanese conversation level at least 30%
■Preferential Conditionn
※ Job is available for Male applicants
※ Up to 50-years old may apply
※ 50-years old above may also apply, but needs consultation
■Working Hours
Shift: 3-Shifting schedule
①08:30~17:20
②17:05~00:15
③00:00~08:45
■Holiday・Vacation
Shift system
There is a possibility of 3 shifts in 3 groups.
120 days off per year
According to company calendar
Other long vacations available
Golden Week, summer vacation, winter vacation
■Welfare benefits
Health insurance, welfare pension, unemployment insurance, worker's accident compensation insurance
Commuting expenses: Up to 30,000 yen/month

★Retirement allowance
★Bonuses
※Bonuses will be paid in advance and included in monthly salary.
★Salary increase
※There is a possibility of wage revision according to the annual evaluation.
★Free dormitory fee
★Social insurance is provided.
★Daily payment system available
★Overtime, late-night and leave allowances
★One room dormitory with equipment
★Company paid travel expenses for relocation
★Transportation expenses paid
★Free transportation
★Commuting by car, motorcycle or bicycle is allowed.
★Paid vacations
★Free rental of work clothes
★Canteen available (200-500yen)
★You can bring your own lunch.

※Each treatment is subject to regulations.
■Remarks
Work location and access method
Work location : Around Oyabe City, Toyama Prefecture
Nearest station : JR Hokuriku Main Line Isurugi Station
Commuting time : 10 minutes by car
Commuting time : 10 minutes
10 minutes by car from the Oyabe IC on the Hokuriku Expressway.
There is a free parking lot outside the plant.
Free shuttle service from the dormitory

About smoking
Measures against passive smoking in the work place: No smoking at all

Dormitory
One-room dormitory
No dormitory fees! You can start living right after you move in because it comes with household appliances and equipment!