JOB No ACH-TYH-BSW001-EN
Car Seat Cover Sewing Manufacturing Staff
¥1,200〜/hour
Aichi, Toyohashi City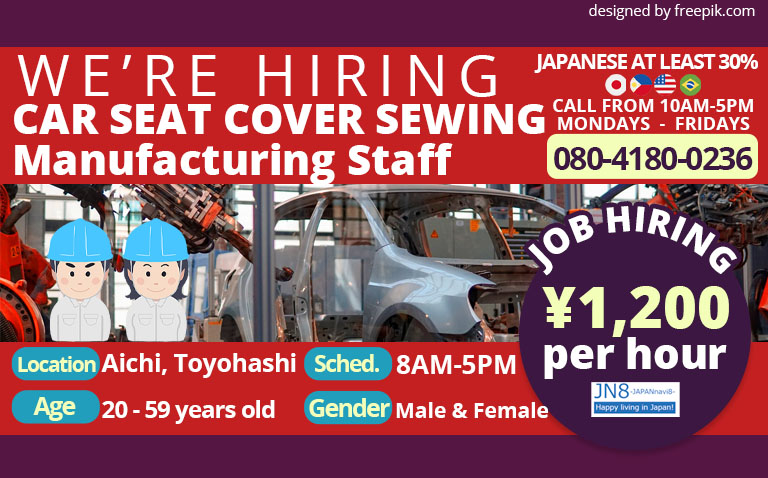 ■Job Description
Seat cover sewing work Manufacturing (assembly/processing) Inexperienced workers are welcome to sew automobile seat covers! You will be sewing genuine leather seats in a line operation. There will be training after you join the company until you get used to it, so even those with no manufacturing experience can work with ease! Since the work does not involve getting your uniform dirty or carrying heavy objects, people of all ages, regardless of gender, can be active Many temporary employees are currently active! This is a great opportunity to work in a fast-paced environment.
■Employment Status
Dispatch Staff (Hakenshain)
■Place of Work
Aichi, Toyohashi City
■Mode of Transportation
By Car, Bicycle, Public Transportation
■Prerequisite
Japanese conversation level at least 20%
■Preferential Conditionn
※ Accepting applicants ages 20 - 59 years old
※ No required certifications to apply
※ We also accept inexperienced applicants
※ We welcome applicants to want to work for a long time
※ The job is open for male and female applicants
※ Open for foreign nationals
■Working Hours
Shift: Day shift
8:15 ~ 17:20 (8 hours actual work)

65 minutes break
Overtime work may increase or decrease depending on the production schedule.
■Holiday・Vacation
※ 121 days off per year (based on the previous year)
※ Based on the company calendar
※ GW, summer and New Year vacations
※ Annual paid vacations (10 days in the first year)
■Welfare benefits
※ Retirement benefits available
※ Many jobs with dormitories.
※ Full social insurance
※ Paid system (half-day leave system available)
※ Transportation expenses paid: 12,480 yen (monthly maximum)
※ Qualification acquisition system available
※ Work clothes rental
※ Travel expenses for relocation paid.
※ Payable daily or weekly.

Benefits may differ depending on company regulations.
■Remarks
Location: Around Toyohashi City, Aichi Prefecture
Nearest Station: Toyohashi Atsumi Line Oitsu Station
Means of Commuting: Car, Bike, Bicycle

Most people start with no experience.
This is a great opportunity to work in a fast-paced environment.

We are looking forward to meeting you.
Please feel free to ask questions and discuss anything!