JOB No SZO-HMT-BSW001-EN
Cable Harness Assembling Staff
¥1,300/hour
Shizuoka, Hamamatsu City Hamakita Ward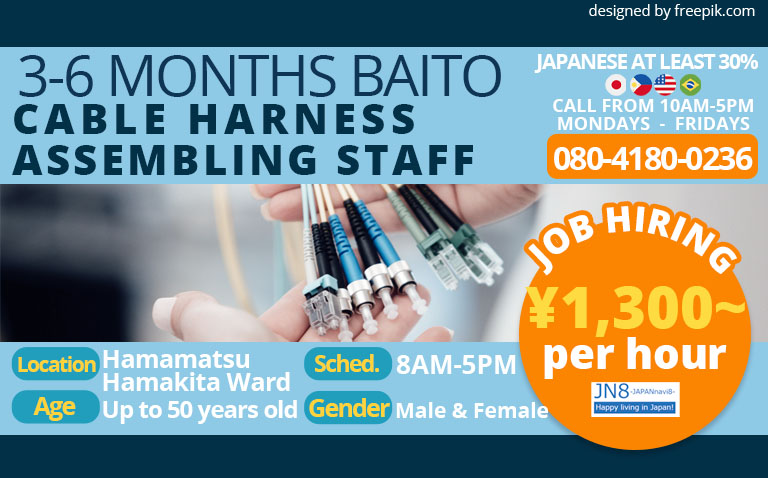 ■Job Description
Simple assembly work for wiring harnesses Manufacturing (assembly/processing) Assembly work for wiring harnesses (assembly wires for automobiles)! This work involves applying and wrapping tape and fitting terminals. There is no heavy lifting and no difficult work, so even those with no manufacturing experience can start this job.
■Employment Status
Dispatch Staff (Hakenshain)
■Place of Work
Shizuoka, Hamamatsu City Hamakita Ward
■Mode of Transportation
By Car, Bicycle, Public Transportation
■Prerequisite
Japanese conversation level at least 30%
■Preferential Conditionn
●No experience is necessary.
●Active hiring for ages 20-40 years old
●Actively hiring housewives, househusbands
●Actively hiring foreigners (those who can speak daily conversational Japanese)

We will support you through the training before and after you start working.
■Working Hours
Shift: Day shift
・8:00 - 17:00 (7 hours 55 minutes of actual work)
※Rest 65 min.
■Holiday・Vacation
Saturday and Sunday
Other days according to company calendar
■Welfare benefits
※ Retirement benefits available
※ Many jobs with dormitories.
※ Full social insurance
※ Paid system (half-day leave system available)
※ Transportation expenses paid: 12,480 yen (monthly maximum)
※ Qualification acquisition system available
※ Work clothes rental
※ Travel expenses for relocation paid.
※ Payable daily or weekly.

Benefits may differ depending on company regulations.
■Remarks
Location : Shizuoka Prefecture / Hamamatsu City Hamakita-ku
Nearest station : 8 minutes walk from Gansuiji Station (700m)
Means of Commuting : Can commute by car, bicycle or on foot!

Limited time job from 3 to 6 months!
Workplace tour to get a feel for the atmosphere! Immediate work available!
You can start work immediately after the tour!
Please feel free to consult with us about your starting date.