JOB No ACH-KMK-TE002-EN
Pachinko Plastic Parts Assembling Staff – Komaki City
¥1,100/hour
Aichi, Komaki City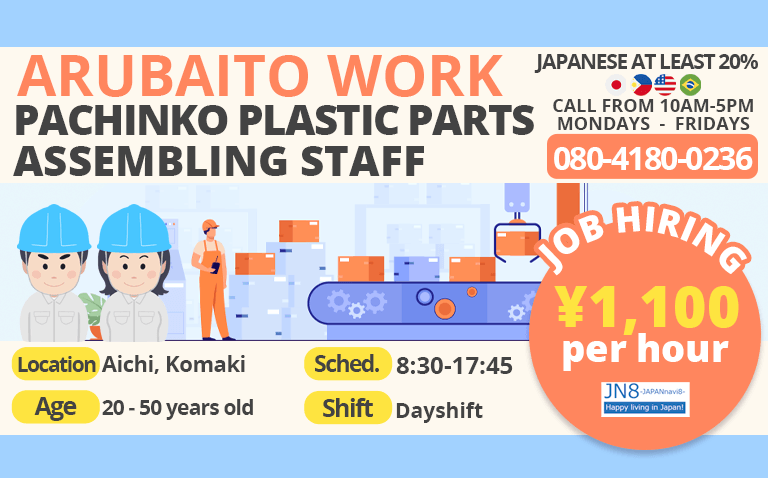 ■Job Description
Pachinko Plastic Parts Assembling
■Employment Status
Part-time (Arubaito)
■Place of Work
Aichi, Komaki City
■Mode of Transportation
By Car, Bicycle, Public Transportation
■Prerequisite
Japanese conversation level at least 20%
■Preferential Conditionn
Speedy hiring! Fast processing from interview to start of work!
※ 20-30% Japanese OK!
※ Part-time job until December 2021
※ We welcome those with no experience.
※ You can apply with your friends.
■Working Hours
Shift: Day shift
8:30 ~ 17:45 (8 hours actual work)

60 minutes break
※ With overtime
※ Overtime plus 25% per hour rate
■Holiday・Vacation
Saturday and Sunday
■Welfare benefits
※ Full social insurance
Benefits may differ depending on company regulations.

※ Benefits will be explained by the handler
■Remarks
Location: Aichi, Komaki City
Means of Commuting: Car, Bike, Bicycle

You will be given a tour of the factory beforehand, so you can see the work for yourself.
Don't worry, we'll support you well after you start working!
Emphasis on personality. We don't need a cool resume or motive for applying.

We are looking forward to meeting you.
Please feel free to ask questions and discuss anything!