JOB No SZO-IWT-OS001-EN
Engine Parts Assembling Staff
¥1,350/hour
Shizuoka, Iwata City near Iwata Station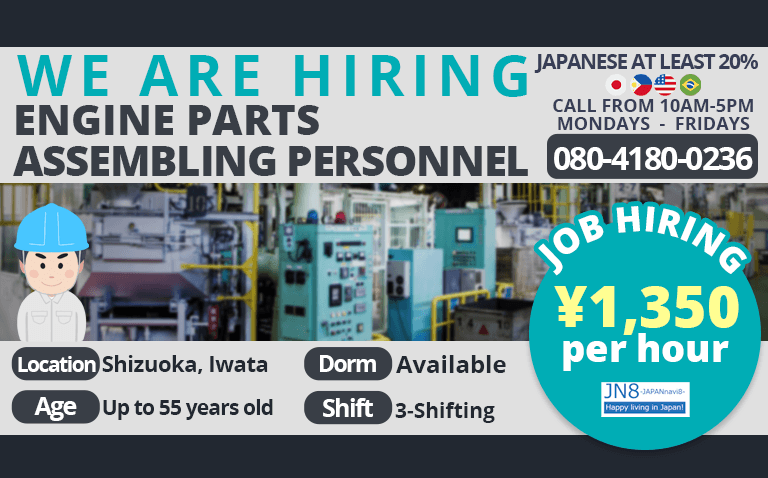 ■Job Description
◇Manufacture of engine parts for cars and motorcycles◇ Set the parts before processing into the processing machine and operate the machine. Remove the finished product from the machine and check the quality. In addition to the above, it is also possible to use a variety of other products. Washing off facets. No experience required! Workplace with a lively atmosphere. There is a trial period (2 weeks) with no change in hourly rate. [Average Monthly salary: 220,000 - 240,000] [Job NO.10023-03] This is a great opportunity to work in a fast-paced environment. In addition to this job, we have many other factory jobs available. Please feel free to contact us if you would like to discuss a project or job opportunity, or if you just want to register!
■Employment Status
Dispatch Staff (Hakenshain)
■Place of Work
Shizuoka, Iwata City near Iwata Station
■Mode of Transportation
By Car, Bicycle, Public Transportation
■Prerequisite
Japanese conversation level at least 20%
■Preferential Conditionn
※ Actively Hiring Male Applicants
※ Up to 55 years old
■Working Hours
Shift: 3 shifts
[1] 19:40 - 04:15
[2] 06:30 - 15:20
[3] 15:20 - 23:55
[4] 17:00 - 01:35

※ 3 shifts for schedule [2]-[4].
※ Working hours may vary depending on the job.
※ [1] Is the schedule during training period.
■Holiday・Vacation
Saturday, Sunday
Annual holidays: 121 days
According to the company calendar
Other long vacations available
Golden Week, summer vacation, winter vacation
■Welfare benefits
☆Retirement allowance
☆Bonuses
※Bonuses are included in the monthly salary and paid in advance.
☆Salary increase
※There is a possibility of wage revision according to the annual evaluation.
☆Full-time work allowance.
☆Social insurance is provided.
☆Daily payment system available
☆Overtime, late night and leave allowances
☆One-room dormitory (with equipment)
☆Company paid travel expenses for relocation
☆Transportation expenses paid
☆Commuting by car, motorcycle or bicycle is possible.
☆Paid vacations
☆Free rental of work clothes
☆Canteen available (570yen~)
☆You can bring your own lunch.
☆Each treatment is subject to regulations.
■Remarks
Work location and access method
Location: Iwata City, Shizuoka Prefecture
Nearest station: Iwata Station, JR Tokaido Main Line
Means of Commuting : Car
Commuting time: 5 minutes
20 minutes by car from Iwata IC on Tomei Expressway

Dormitory
One-room dormitory
Travel expenses are covered by the company, so those who live far from the company will not have to worry.

About smoking
No smoking indoors (there is an outdoor smoking area)