JOB No ACH-TYH-BSW004-EN
Car Parts Inspection and Sorting Staff
¥1,200/hour
Aichi, Toyohashi City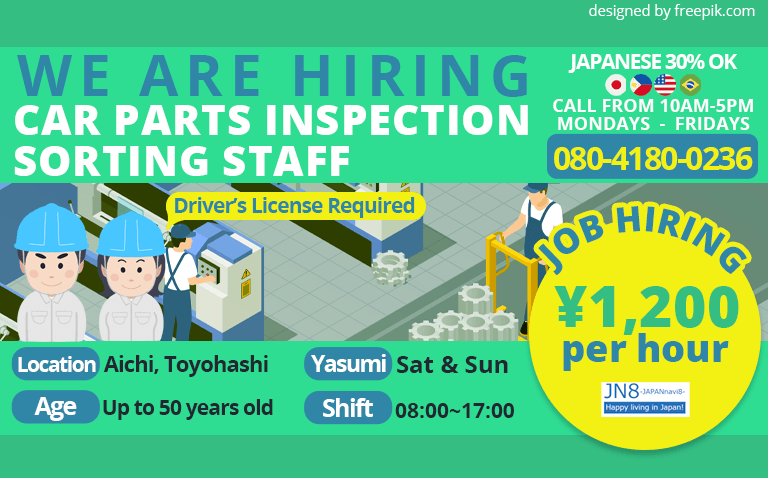 ■Job Description
Packing, sorting and inspection Quality inspection and sorting of auto parts! Visual inspection to check and sort parts for flaws and distortions on the surface. Most of the products you will be working with are small parts, so there is no heavy lifting involved! The work is done in the workshop where the products are stored, so everyone will travel together from the sales office by company car to perform the inspection work (travel time is also reflected in the salary!)
■Employment Status
Dispatch Staff (Hakenshain)
■Place of Work
Aichi, Toyohashi City
■Mode of Transportation
By Car, Bicycle, Public Transportation
■Prerequisite
Japanese conversation level at least 30%
■Preferential Conditionn
◎Driver's license required
◎No experience is required.
◎Those who can work for a long term are welcome.
◎Both men and women are active.
◎Foreign staffs are active.
■Working Hours
Shift: Day shift
8:00 ~ 17:00 (8 hours actual work)

60 minutes break
■Holiday・Vacation
Saturday and Sunday
◎GW, summer vacation, year-end and New Year vacations
◎Other vacations are based on company calendar and production plan
※May vary depending on production plans, etc.
◎Annual paid leave (first 10 days granted after 6 months)
■Welfare benefits
●Retirement benefits available
●Many jobs with dormitories
●Full social insurance
●Paid system (half-day leave system available)
●Transportation expenses paid: 12,480 yen (monthly maximum)
●Qualification acquisition system available
●Work clothes rental
●Travel expenses for new job
●Daily and weekly salary payment available
※Each company has its own regulations.
■Remarks
Location: Aichi Prefecture, Toyohashi City,
Nearest Station: 9 minutes by car from Nishikozakai Station
Means of Commuting: Car, Bike, Bicycle

You can start working immediately after the factory tour!
Work starting next month is also possible!
Please feel free to consult with us about your starting date!

We are looking forward to meeting you.
Please feel free to ask questions and discuss anything!