JOB No FKS-FKS-HM001-EN
Marine Heated Fishery Food Processing Staff
¥172,640/month
Fukushima, Fukushima City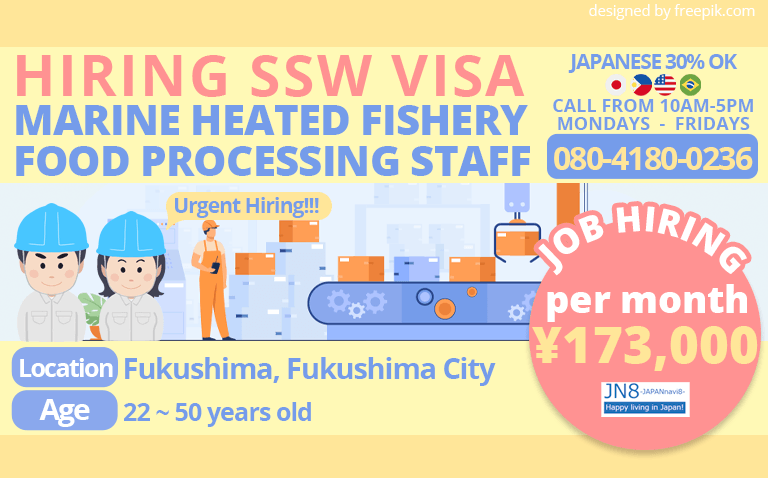 ■Job Description
Marine Heated Fishery Food Processing
■Employment Status
Contractual Employee
■Place of Work
Fukushima, Fukushima City
■Mode of Transportation
By Car, Bicycle, Public Transportation
■Prerequisite
SSW visa holders that had ended their contract or cannot return back to their home country
■Preferential Conditionn
◎ Actively hiring female applicants
◎ Male applicants can also apply (for consultation)
◎ We also accept applicants without experience on the field
■Working Hours
For consultation
■Holiday・Vacation
Every Sundays
■Welfare benefits
● Full social insurance
● Other benefits are for consultation
※Each company has its own regulations.
■Remarks
Location: Fukuoka, Fukuoka City
Nearest Station: Iizakaonsen Station (5 minutes walk to the station)
Means of Commuting: Car, Bike, Bicycle

Urgent Hiring! We're looking for candidates who can start work immediately.
We are looking forward to meeting you.
Please feel free to ask questions and discuss anything!