JOB No SZO-KOS-BSW001-EN
Automobile Parts Pressing and Welding Staff
¥1,250/hour
Shizuoka, Kosai City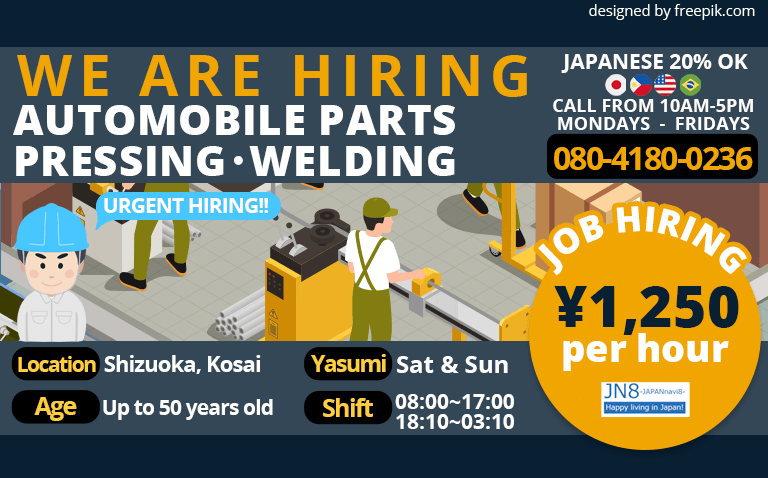 ■Job Description
Manufacturing (assembly, processing) This is a job for press machine operators and simple welding work for automotive parts! Great opportunity for someone who wants to work in a fast-paced environment and for someone who has never worked as an operator before.
■Employment Status
Dispatch Staff (Hakenshain)
■Place of Work
Shizuoka, Kosai City
■Mode of Transportation
By Car, Bicycle, Public Transportation
■Prerequisite
Japanese conversation level at least 20%
■Preferential Conditionn
\Speedy hiring! You can join us in as little as 3 days./
●We are looking for people in their teens to 40s.
●No experience is necessary.
●Actively hiring male applicants
●Actively hiring foreigners (Beginner level Japanese skill is OK)
■Working Hours
Shift: 2 shifts
◆Day shift: 8:00-17:00 (8 hours of work)
◇Night shift: 18:10 - 3:10 the following day (8 hours of actual work)
◆Rest: 60 min.
■Holiday・Vacation
Saturday and Sunday
・Two days off per week
・GW/Summer vacation/Obon/New Year's vacation
・Annual paid vacation
■Welfare benefits
●Retirement benefits available
●Many jobs with dormitories
●Full social insurance
●Paid system (half-day leave system available)
●Transportation expenses paid: 12,480 yen (monthly maximum)
●Qualification acquisition system available
●Work clothes rental
●Travel expenses for new job
●Daily and weekly salary payment available
※Each company has its own regulations.
■Remarks
Location: Shizuoka, Kosai City
Nearest Station: 10 minutes by car from Shinjohara Station
Means of Commuting: Car, Bike, Bicycle

■Separate transportation allowance: For cars and motorcycles, round-trip commuting distance x 13.5 yen/day; for public transportation, commuter fare/month.
※Company will shoulder up to 12,480 yen per month

You'll have no problem learning the job slowly until you get used to it!
Many dispatch (hakenshain) staff are working at the site.
■No smoking indoors
※There is a non-smoking space outside.

We are looking forward to meeting you.
Please feel free to ask questions and discuss anything!