JOB No SZO-HMT-BSW002-EN
Printer Parts Assembling Staff
¥1,400/hour
Shizuoka, Hamamatsu City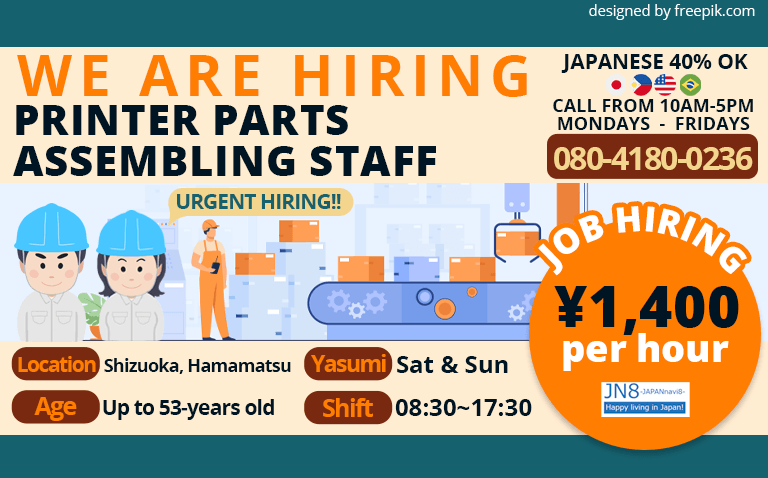 ■Job Description
Manufacturing (assembly and processing) We are responsible for the assembly of equipment such as commercial printers and small cutting machines. This is a great opportunity for someone who enjoys working individually. You will be using an electric screwdriver for assembly, but no other special tools are required, so even if you have no experience, you can get used to it quickly.
■Employment Status
Dispatch Staff (Hakenshain)
■Place of Work
Shizuoka, Hamamatsu City
■Mode of Transportation
By Car, Bicycle, Public Transportation
■Prerequisite
Japanese conversation level at least 40%
■Preferential Conditionn
\Speedy hiring! You can join us in as little as 3 days./
●We welcome those with no experience.
●Actively hiring male and female applicants
■Working Hours
Shift: Dayshift
◇ 8:30~17:30(8 hours of work)
◆ Break:60 minutes
■Holiday・Vacation
Saturday, Sunday, and Holidays
●Happy weekends and holidays off!
●More than 125 days off per year!
●In addition, year-end and New Year vacations, summer vacation, GW, etc., based on the company calendar and production plan.
●More days off! This is a great opportunity for someone who wants to have a good private life as well!
■Welfare benefits
●Retirement benefits available
●Many jobs with dormitories
●Full social insurance
●Paid system (half-day leave system available)
●Transportation expenses paid: 12,480 yen (monthly maximum)
●Qualification acquisition system available
●Work clothes rental
●Travel expenses for new job
●Daily and weekly salary payment available
※Each company has its own regulations.
■Remarks
Location : Kita-ku, Hamamatsu City, Shizuoka Prefecture
Nearest Station : Tenryu Hamanako Railway Fruit Park Station (6 minutes by car)
Means of travel : Commuting by car, motorcycle, bicycle, or on foot is OK!
Parking is free.

Landmarks
■ Lawson Hamamatsu Miyakoda, Seven Eleven Hamamatsu Miyakoda: 3 minutes by car.

You will be given a factory tour beforehand, so you can see the work with your own eyes.
This is a great opportunity to work in a fast-paced environment.
Emphasis on personality. No need to have a cool background or motive for applying.