JOB No ACH-NGO-AZ004-EN
Web Application Developer
¥300,000/month ~ approximate salary per month
Aichi, Nagoya City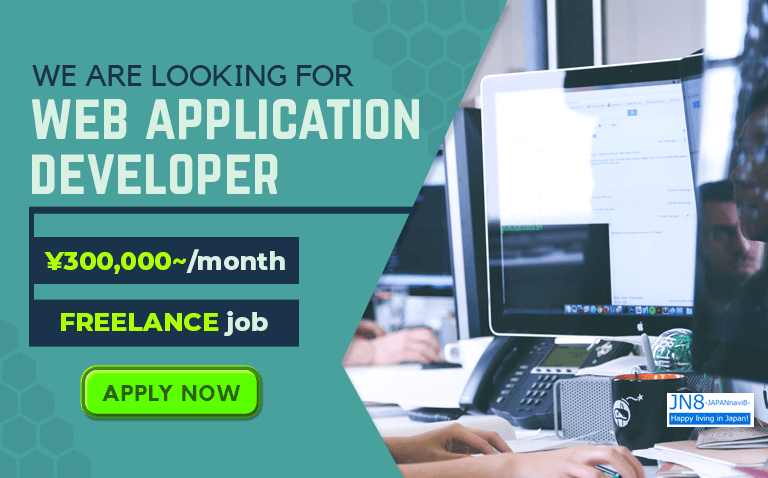 ■Job Description
Development of web applications. Requirements definition and design is done by Japanese engineers. You will be responsible for the development work.
■Employment Status
Freelance・Contractual
■Place of Work
Aichi, Nagoya City
■Mode of Transportation
Public Transportation
■Prerequisite
【REQUIRED SKILLS】 ・At least 3 years experience with Web Application development ・Has knowledge and used Web Application Framework ・Has HTML/CSS Coding experience ・Has Linux/UNIX development experience ・Has JavaScript Programming experience ・At least JLPT N2 level of Japanese skills (N3 level for consultation) 【PLUS SKILLS】 ・Web Service and API Service skills is a plus 【PROGRAMMING LANGUAGE】 ・Java ・C# ・PHP
■Preferential Conditionn
※※※※※
■Working Hours
Mondays - Fridays
9:00 ~ 18:00 (8 hours of work)
※with Overtime
■Holiday・Vacation
Saturdays・Sundays・Holidays
・Two days off per week
・GW/Summer vacation/Obon/New Year's vacation
・Annual paid vacation
■Welfare benefits
Available for discussion
■Remarks
Work location and access method
Work Location: Nagoya City, Aichi Prefecture
Nearest Station: Fushimi Station Exit no. 3
Means of transportation: Train
JN8 -JAPANnavi8-
Information site supporting foreigners living in Japan.