JOB No TCG-NSB-OS001-EN
Automobile Parts Manufacturing Staff
¥1,500/hour
Tochigi, Nasushiobara City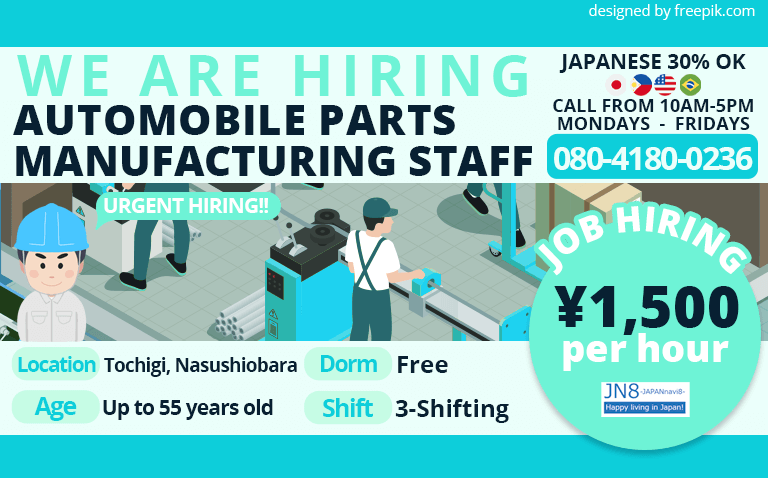 ■Job Description
◇Manufacturing of truck and bus tires◇ ・Transporting carts with tires after machining to the next process ・Checking the part number of the tire against the machine. ※There is a trial period (2 weeks) with no change in hourly rate. 【Monthly income example】: 290,000 - 310,000 yen 【Job NO.4497-01】 ※Please inform us of your Job No. when you apply. ☆In addition to this job, we have many other factory jobs available.☆ ※Please feel free to contact us if you would like to discuss a project or job opportunity, or if you just want to register!
■Employment Status
Dispatch Staff (Hakenshain)
■Place of Work
Tochigi, Nasushiobara City
■Mode of Transportation
By Car, Bicycle, Public Transportation
■Prerequisite
Japanese conversation level at least 30%
■Preferential Conditionn
※ For male applicants
※ Up to 55 years old may apply
■Working Hours
Shift: 3-shifting
[1] 08:15~16:35
[2] 16:15 - 00:35
[3] 00:15 - 08:35
[4] 08:15~16:45
Normal work in three shifts from [1] to [3]; No. [4] shift is for probationary period.
■Holiday・Vacation
5 shifts, 2 days off (except Saturday and Sunday)
※Rest days are according to company calendar
※Other long vacations available
Golden week, summer vacation, winter vacation
■Welfare benefits
◇Retirement allowance
◇Bonuses
★Bonuses are included in the monthly salary and paid in advance.
◇Salary increase
★There is a possibility of wage revision according to the annual evaluation.
★No Dormitory Fees
◇Full-time employee promotion system available
◇Social insurance is provided.
◇Daily payment system available
◇Overtime, late-night and leave allowances
◇Single room dormitory with equipment
◇Company paid travel expenses for relocation
◇Transportation expenses paid
◇You can commute by car, motorcycle, or bicycle.
◇Paid vacations
◇Free rental of work clothes
◇Cafeteria available (150-500 yen)
◇You can bring your own lunch.
※Each treatment is subject to regulations.
■Remarks
Work location and access method
Work Location: Tochigi, Nasushiobara City
Nearest Station: 15 minutes by car from Nasushiobara Station on the Tohoku Main Line