JOB No MIE-TSU-OS002-EN
Aluminum Housing Parts Manufacturing Staff
¥1,600/hour
Mie, Tsu City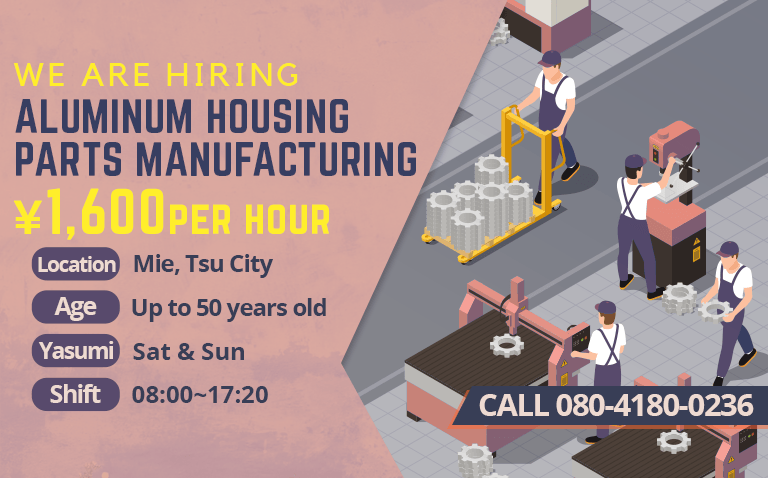 ■Job Description
[1] Cut the aluminum. [2] Process the cut aluminum according to the instructions, including screw holes. [3] Assemble the parts made in the above process using electric screwdrivers, etc. according to the instructions. [4] Pack assembled products with vinyl or cardboard and prepare them for shipment. ※[1] to [4] are one line, and line flow work is performed. ※You will be assigned to one of the above processes.
■Employment Status
Dispatch Staff (Hakenshain)
■Place of Work
Mie, Tsu City
■Mode of Transportation
By Car, Bicycle, Public Transportation
■Prerequisite
Japanese level 0% OK!
■Preferential Conditionn
※ For male and female applicants
※ Up to 50 years old may apply
■Working Hours
Shift: Dayshift
08:30~17:20
※During busy periods, you may be required to work overtime or night shifts.
■Holiday・Vacation
Saturdays, Sundays, and holidays
※Rest days are according to company calendar
※Other long vacations available
Golden week, summer vacation, winter vacation
■Welfare benefits
●Retirement benefits available
●Full social insurance
●Overtime, late-night and leave allowances
●Paid Transportation expenses
●Paid vacation leaves
●Free rental of work clothes and a lot more
※Each benefit is subject to regulations.
■Remarks
Work location and access method
Work Location: Around Tsu City, Mie Prefecture
Nearest Station: Hisai Station at Kintetsu Nagoya Line (10 minutes by car)
★There is a free parking lot in the factory site.
★Free shuttle service is available.
※Please consult with us about the pick-up location.