JOB No ACH-KSG-AZ001-EN
Home Interior Components Manufacturing Staff
¥190,000/month
Aichi, Kasugai City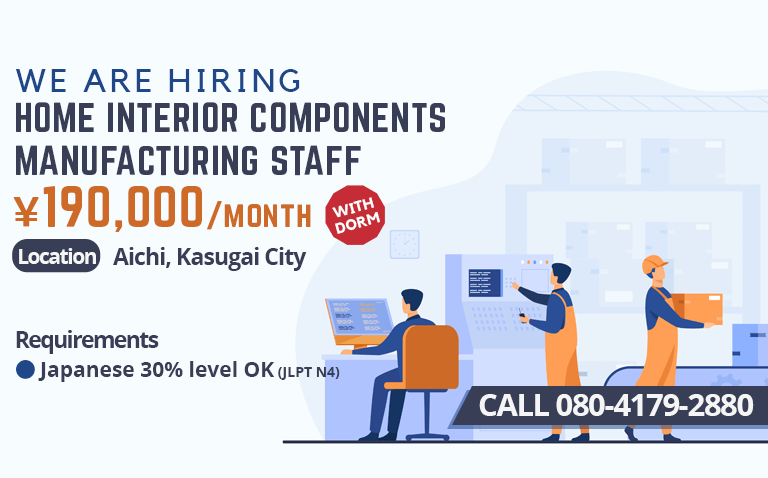 ■Job Description
■ Maintenance, inspection, and management of manufacturing equipment and machinery, and machine operation Many foreign nationals are also active in this field. In the future, you would be given a task to perform technical clerical work such as production control and process control, and machine design work.
■Employment Status
Regular Employee (Seishain)
■Place of Work
Aichi, Kasugai City
■Mode of Transportation
By Car, Bicycle, Public Transportation
■Prerequisite
■ At least 30% of Japanese language or JLPT N4
■Preferential Conditionn
※ No age limit
※ Male and Female applicants are welcome
※ Good for applicants who wants to work for a long time

Selection Process: Documents screening ➔ Interview scheduling
■Working Hours
Shift: Dayshift
8:00 ~ 17:00(60 minutes break)
■Holiday・Vacation
2 days off per week
■Welfare benefits
●Full social insurance (health insurance, employee pension, unemployment insurance, worker's compensation insurance)
●Training period (1 month)
●Work clothes provided
●Housing assistance available
  Single room 30,000 yen (utilities included) Double room 20,000 yen (utilities included)
●Moving expenses are subsidized for those moving from far away.
※All benefits are subject to regulations.
■Remarks
Work location and access method
Work Location : Kasugai City, Aichi Prefecture