JOB No SZO-SMD-OSW001-EN
Bread Factory Food Manufacturing Staff
¥1,250~¥1,350/hour
Shizuoka, Shimada City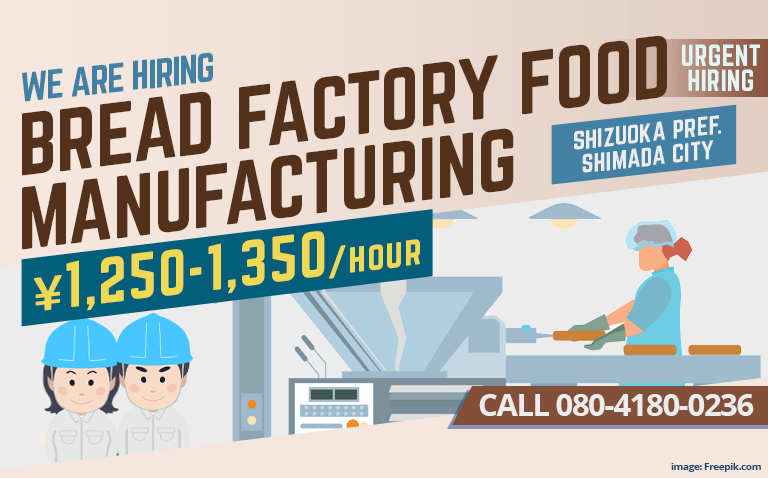 ■Job Description
Production of pastries in convenience stores. Work in a clean room*. Forming of sweet bread →Shaping bread dough by hand Inspection work →Visual inspection is the basic method to remove non-conforming products. Packing →Work in the freezer and shipping and packing of frozen bread Cleaning work is required. There is a trial period (14 days) with no change in hourly wage.
■Employment Status
Dispatch Staff (Hakenshain)
■Place of Work
Shizuoka, Shimada City
■Mode of Transportation
By Car, Bicycle, Public Transportation
■Prerequisite
※ Daily conversation level Japanese language skill
■Preferential Conditionn
※ Up to 60 years old may apply
※ Actively hiring male and female applicants
■Working Hours
Shift: Dayshift or Nightshift
Dayshift: 09:00~18:00
Nightshift: 22:00~07:00
■Holiday・Vacation
Saturday, and Sunday
※Rest days are according to company calendar
■Welfare benefits
☆Retirement benefits
☆Bonuses available
※Included in monthly salary and paid in advance
☆Salary increase
※Possible wage revision based on annual evaluations
◇Social insurance
◇Overtime and holiday pay
◇Transportation expenses paid
◇Car, motorcycle, and bicycle commuting allowed
◇Paid vacations
◇Free loan of work clothes
◇Cafeteria available (180-400 yen)
◇Bringing your own lunch is allowed
※Each benefit is subject to regulations.
■Remarks
Work location and access method
Work Location: Shizuoka, Shimada City
Nearest Station: 10 minutes drive from Rokugo Station
JN8 -JAPANnavi8-
Information site supporting foreigners living in Japan.