Cherry blossoms in full bloom in Tokyo, Fukuoka and other places
03/28/2022
One week after blooming, the cherry blossoms in Tokyo are in full bloom.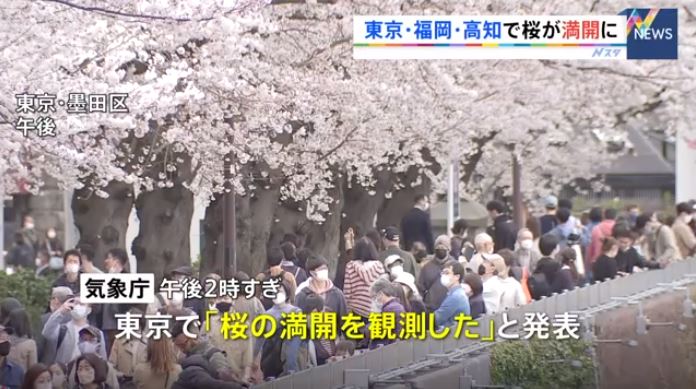 Cherry blossoms in full bloom in Tokyo, Fukuoka and other places (TBS News)
The Japan Meteorological Agency (JMA) announced yesterday (27th) that it had observed the full bloom of cherry blossoms in Tokyo. This is five days later than last year and four days earlier than normal.
Full bloom is announced when approximately 80 percent or more of the buds have opened on a sample tree.
Yesterday, the high temperature in central Tokyo was 21.4 degrees Celsius, which was as warm as in late April, and many people visited the promenade along the Sumida River lined with cherry blossom trees.
Yesterday, the full bloom of cherry blossoms was also announced in Fukuoka and Kochi, and spring is finally in full swing.
JN8 -JAPANnavi8-
Information site supporting foreigners living in Japan.