Man arrested on suspicion of hit-and-run after dragging elderly woman 200 meters
03/31/2022
SAITAMA – A 47-year-old man was arrested by police after an 87-year-old woman was run over and killed by a passenger car in front of a convenience store in Kawaguchi, Saitama Prefecture on March 29.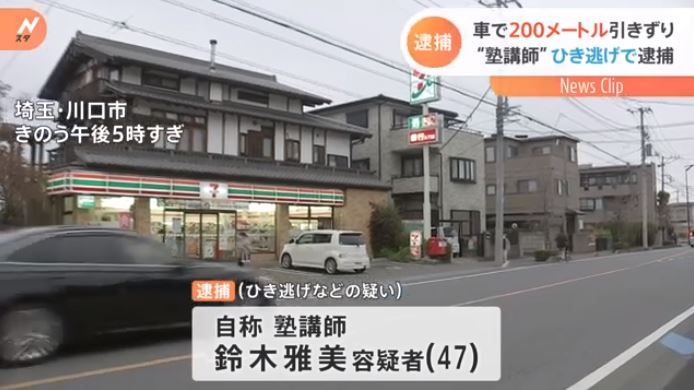 Man arrested on suspicion of hit-and-run after dragging elderly woman 200 meters (N Star)
The suspect, Masami Suzuki, 47, a cram school teacher in Saitama City, was arrested on suspicion of hit-and-run and negligent homicide for running over and killing 87-year-old Shigeko Ishikawa in Nishiaraijuku, Kawaguchi City, at around 11:40 a.m. on March 29 morning by a passenger car and then running away.
According to the police, after shopping at a convenience store, the suspect backed out of a parked car, ran over Ms. Ishikawa, who was on the sidewalk, and dragged her 200 meters before driving away.
When questioned by the police, Suzuki denied the charge, saying he thought he had run onto a curb or something.
JN8 -JAPANnavi8-
Information site supporting foreigners living in Japan.