Restaurant owner, found dead inside his restaurant in front of JR Yamagata Station; 3 men arrested
03/31/2022
YAMAGATA – Police have just arrested three men in connection with the discovery of a man's body at a restaurant in Yamagata City yesterday.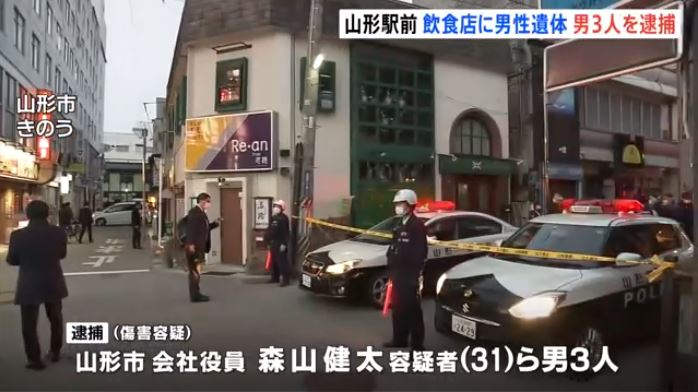 Restaurant owner, found dead inside his restaurant in front of JR Yamagata Station; 3 men arrested (TBS News)
Three men, including Kenta Moriyama, 31, a company officer in Yamagata City, were arrested on suspicion of injury. The incident occurred yesterday evening when Shota Furusawa, the owner of this restaurant, was found dead inside a restaurant in Yamagata City.
According to the police, the Moriyama suspects assaulted Ms. Furusawa by punching her in the face in a restaurant between around 2:00 a.m. and the evening of yesterday. The three arrested men are acquaintances.
The police believe that there was some kind of trouble between Mr. Furusawa and the three men and are investigating the motive for the crime in detail.
JN8 -JAPANnavi8-
Information site supporting foreigners living in Japan.